Homeland Casts Carrie's New Boyfriend And More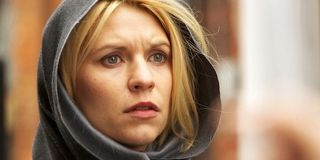 Moving forward, Showtime's CIA drama Homeland is changing things up. Season 5 of the international procedural is heading to somewhere they've never been, Germany, and they're adding a bunch of new characters, including a love interest for the lead, Carrie Matheson (Claire Danes).
According to Deadline, Homeland is adding Miranda Otto (The Lord of the Rings), Sebastian Koch (The Lives of Others), Alexander Fehling (Inglorious Basterds), and Sarah Sokolovic (Cold Comes the Night) to the call sheet that already includes returning stars Danes, Rupert Friend, Mandy Patinkin, and F. Murray Abraham.
The next season of Homeland, which is the fifth for those of you keeping score, finds Carrie still dealing with the aftermath of her disastrous turn as the CIA station chief in Islamabad, Pakistan. If you watched season 4, you'll remember that things did not go particularly well for her there. It's now two years later, and she is wracked with guilt, disillusioned from her time involved in what she thought was the good fight, and she lands in Berlin, working for a private security firm and estranged from her previous home at the CIA.
Otto is slated to play Allison Carr, who is the station chief of the CIA's Berlin branch. She works directly under Saul Berenson (Patinkin), and it's easy to see that Carrie could view her as a threat, or at least as usurping her spot as Saul's Golden Child.
Koch plays Otto During, who is a well-to-do German philanthropist. He also happens to be Carrie's boss, and odds are that her security firm has been hired to protect him from some kind of threat, the kind of threat that will lead her to seek out advice and intel from her former employer. You can also imagine him involved in some unsavory business.
Fehling is set to take the role of Jonas Happich. He's a lawyer for During's charitable foundation, as well as Carrie's love interest. Considering her track record, you can only imagine that he's either bad news and involved in something sinister, or she'll find a way to fuck everything up.
Last but not least, Sokolovic will play Laura Sutton, a journalist, and fellow American, living in Berlin and working for the During Foundation in some as yet unspecified capacity
Season 5 of Homeland filming entirely in Germany marks the first time that an American series has done so, thanks in large part to a hefty bonus from a local fund that promotes film and TV production in the country. The new episodes are scheduled to hit Showtime in September of this year. After going off the rails some, season 4 was a definite turn in the right direction, and let's hope the new season continues this trend.
Your Daily Blend of Entertainment News
Thank you for signing up to CinemaBlend. You will receive a verification email shortly.
There was a problem. Please refresh the page and try again.