The House Market Doesn't Affect the Reality TV Housing Market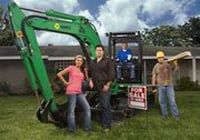 The housing market is down – just watch any national news program, and there is a story about it virtually every day. Houses are being foreclosed on at an incredible rate. Yet, in Reality TV land, the market is as strong as ever.
We've all seen Trading Spaces, Extreme Home Makeover, and House Hunters, and a host of others. A brand new season is about to start on Sunday for Flip that House (from TLC ) – which was developed in conjunction with two other shows - Flip this House (from A&E ), and my personal favorite, Flipping Out (from Bravo).
Adding to the choices is Date My House starring The Bachelor's Bob Guiney on TLC. Yahoo News reports that the premise behind the show is that the prospective buyers spend the night in the home that is for sale to get a better feel for it. So, if they don't buy it, does that make it a one-night stand? Are we going to have a sudden rash of "whore-houses" on the market?
Just so we aren't all worried that these shows might falsely encourage people to go buy houses and actually invigorate the economy, we are reassured by Brant Pinvidic, TLC's senior vice president of programming. "Flip That House" will become more reflective of the economy. Not every "flipper" gets rich quick. The show will make sure every time at the end to clearly outline how each investor did," he said.
Your Daily Blend of Entertainment News