Housewives Desperate For Chris Carmack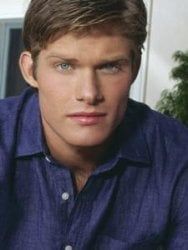 I've always been of the opinion that Desperate Housewives really needs more fisticuffs, and now it appears I may get my wish. Chris Carmack, who spent most of The O.C.'s first season sparring with Seth and/or Ryan (before they all became besties), is coming to Wisteria Lane. According to TV Guide's Ausiello Report, Carmack has signed on for a recurring role as Susan's cousin Tim, who shows up to help her with her…taxes? I don't know; maybe he brawls with Mike over whether or not rehab is a deductible expense.
Carmack seems to have completely graduated into adult roles, as the producers are also looking to cast a teenage version of Tim. Apparently, there is a traumatic event in his past that Tim witnessed that will play a part in his storyline. Since they can't have him be a love interest for Julie and the perils of the 1040 only go so far, let's hope that this traumatic event is sufficiently juicy.
Also, I have five bucks that says Eva Longoria is the first castmember who greets him on set with, "Welcome to Wisteria Lane, bitch!" She just seems like that kind of lady.
Your Daily Blend of Entertainment News
Your Daily Blend of Entertainment News
Thank you for signing up to CinemaBlend. You will receive a verification email shortly.
There was a problem. Please refresh the page and try again.