How Agent Carter May Link To Avengers 2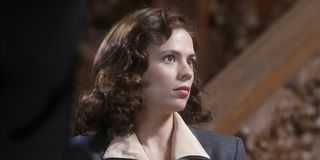 Spoilers for last night's episode of Agent Carter are ahead!
Peggy Carter's new neighbor is not who she appears to be. In last night's episode of Agent Carter, titled "The Blitzkrieg Button," Dottie stumbled upon the villainous Mr. Mink, currently on his way to kill Peggy. A brief encounter and several parkour-like moves later, she snapped his neck with her legs and hid the body. If her fighting style seemed reminiscent of future Avenger Black Widow, whom we've seen take out many a man in the present day, it's because these two have a lot more in common than just fancy moves, and it may tie Agent Carter into Avengers: Age of Ultron in a clear way.
Showrunners Tara Butters and Michele Fazekas revealed to IGN that Dottie is a part of the tentatively named "Black Widow Program," although it won't be called that on the show. Similar to how the Strategic Scientific Reserve (SSR) eventually became S.H.I.E.L.D., this Russian spy program will eventually become the operation that Natasha Romanoff was drafted into at a young age.
Outside of offhand, vague comments in The Avengers and Captain America: The Winter Soldier, not much is known about Black Widow's past. It's been speculated that Avengers: Age of Ultron will feature a flashback of Natasha being indoctrinated by the KGB spy program that she served in before joining S.H.I.E.L.D. Agent Carter could be Marvel's way of giving fans a glimpse of what moviegoers will see in May. Show the history of the operation on TV, then show what it transitions into decades later on the big screen. This would provide another thread of connectivity between Marvel's films and TV series, similar to what Agents of S.H.I.E.L.D. is doing with the Inhumans.
Dottie's original character description labeled her as a "a small-town girl from Iowa," but as is the case with many spy stories, not everyone is who they seem. Given the involvement of Leviathan agents Leet Brannis and the green-suited assassin, both of whom were former Soviet soldiers, it's likely no coincidence that Dottie showed up around the same time as they did, although whether she's affiliated with Leviathan or another organization is still a mystery.
Viewers will learn more about Dottie and her history in next week's episode "The Iron Ceiling." Although Butters and Fazekas wouldn't outright say what Dottie's plans are, or who she is affiliated with, they reiterated that she's staying at the Griffith for a reason, and that she'll play "a part in the larger story of the whole season."
However it goes, Peggy has finally found her match with this blonde bombshell. I sense a showdown coming! You can catch Agent Carter Tuesdays at 9 p.m. ET on ABC.
Your Daily Blend of Entertainment News
Connoisseur of Marvel, DC, Star Wars, John Wick, MonsterVerse and Doctor Who lore. He's aware he looks like Harry Potter and Clark Kent.