How Captain America Will Directly Connect To Agent Carter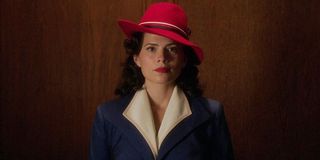 We've known for quite some time that ABC and Marvel's Agent Carter would vaguely tie in with Marvel's Cinematic Universe. But since Hayley Atwell's Peggy Carter will be living in a post-Captain America world, we weren't totally sure how. Luckily, this week we learned that Captain America will pop up in the plot via a radio program called "The Captain America Adventure Hour" that is dedicated to the antics of Cap and his fictional dame, Betty.
Here's the not-so-big shocker: Peggy absolutely hates it.
It's easy to see how a woman who is both an intellectual and a huge badass has a problem with her fictional radio counterpart being a damsel in distress. It's hard enough for a capable woman to break the boundaries that 1940s society has laid out for her without being confronted with silly nonsense on the radio. On top of that, she's also a woman who is dealing with life after losing Steve Rogers, and a popular radio program would just keep that grief fresh on her mind. So, I'm sure "The Captain America Adventure Hour" is a tough pill to swallow on more than one level.
Additionally, a radio program seems like it could be a weird idea to shoehorn into an hour-long drama, but executive producer Michele Fazekas tells EW that the show was able to get playful when deciding how to integrate Captain America nods into Agent Carter. It'll be the sort of background easter egg that fans really enjoy.
Captain America isn't the only Marvel flick Agent Carter will nod at. Earlier today Hayley Atwell explained that the show also plans to tie in with Marvel's upcoming flick Ant-Man. Since Hank Pym isn't around until much later than the 1940s period ABC's new show is set in, I have no idea how that sort of plotline will pan out, but there are definitely some theories floating around.
Agent Carter is expected to hit ABC's schedule on Tuesday, January 6 at 8 p.m. ET. If you plan to watch, keep your eyes peeled for other fun Marvel easter eggs and tie-ins. Additionally, you can check out the rest of this winter's premiere and return dates here.
Your Daily Blend of Entertainment News
Reality TV fan with a pinch of Disney fairy dust thrown in. Theme park junkie. If you've created a rom-com I've probably watched it.