New Agent Carter Footage Will Pump You Up For The Series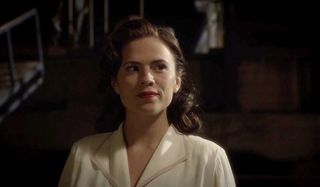 ABC's special Marvel: 75 Years From Pop To Pulp wasn't just a history lesson on the famous comic book company. Viewers were also given a look to the future with a sneak peek at Agent Carter, which will air in January while Agents of S.H.I.E.L.D. is on hiatus. Featuring the titular character, her old pal Howard Stark and his butler Edwin Jarvis, the clip not only gets viewers familiarized with what the driving story will be, but will assuredly get anyone on the fence excited about the 1940s limited series. Check it out.
This preview summarizes the show's plot succinctly: Howard Stark's inventions have been stolen, and now he's recruited Peggy to help recover them. She'll definitely have her hands full. It's hard enough tracking down run-of-the-mill killing machines, but retrieving a formula for a substance that can blow up city blocks sounds near-impossible. Fortunately, Peggy is one of the Strategic Scientific Reserve's best agents, so if there's anyone that can track down these evildoers, it's her. Howard obviously believes that, because although it's implied he hasn't seen her in a while (and they certainly haven't been out for fondue), she was the one he turned to for help. He's right, though. With all she's doing for him, he definitely owes her one. Maybe he can loan her one of those flying cars he's been working on.
While we knew Howard would be appearing in the show, Marvel never acknowledged whether he was part of the main cast. Judging by this clip, it looks like he'll be busy with his own pursuits overseas, although that doesn't mean he won't return for a later episode. Even though he's gone, Jarvis will be helping her out, although his evening routine probably won't include these dangerous missions. It sounds like her first meeting with Jarvis resulted in her decking him, but as these two work together, I'm guessing they'll build a friendly relationship. Peggy will teach Jarvis how to navigate the world of espionage, and Jarvis will teach Peggy how to appreciate Benny Goodman. It's a win-win situation.
However, as helpful as the plot setup is, nothing is better than that scene at the end of Carter "going to work," or more specifically throwing a goon out the window in evening wear. We've seen Carter in action before, most recently in Agents of S.H.I.E.L.D., but this series will be the perfect venue for viewers to see just how much of a badass she is. This won't be the last anonymous henchman that Peggy will be beating up over the series, but with each bad guy she takes down, she'll get one step closer to finding the mastermind behind these thefts. Agent Carter may only be eight episodes long, but viewers are sure to be in for a wild ride with Marvel's spy extraordinaire this winter.
Connoisseur of Marvel, DC, Star Wars, John Wick, MonsterVerse and Doctor Who lore. He's aware he looks like Harry Potter and Clark Kent.
Your Daily Blend of Entertainment News
Thank you for signing up to CinemaBlend. You will receive a verification email shortly.
There was a problem. Please refresh the page and try again.