Wait, Why Is Agent Carter Going To Overlap With Ant-Man?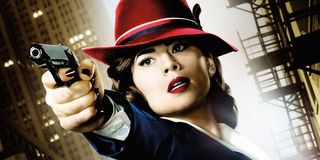 She may not be taking part in the present day events of the Marvel Cinematic Universe, but Peggy Carter has left an enormous impact on this world's history. We saw her fight HYDRA forces in Captain America: The First Avenger and Agents of S.H.I.E.L.D., and tomorrow we'll see another chapter of her life unfold in the limited series Agent Carter. As with most MCU projects, the show will likely include an Easter Egg here and there for the hardcore fans, but according to series lead Haley Atwell, the show will also have a connection with one of Marvel's more unusual movies: the upcoming Ant-Man.
Atwell told Comic Book Resources that while Agent Carter will largely be standing on its own, as with every MCU project, there will be connections to other Marvel "worlds," including Marvel's microscopic adventure.
The connection to Captain America is obvious given their history, but interlinking with Ant-Man is more peculiar. Although it hasn't been officially confirmed, Atwell is expected to reprise Peggy in Ant-Man. Given that John Slattery will also reprise his role as the older Howard Stark (last seen in Iron Man 2), this likely means that we'll see Peggy in a 1960s flashback possibly interacting with a young Hank Pym. That would be 20-something years after Agent Carter, so how would a show about a spy overlap with a movie about a shrinking superhero?
It could be that Atwell was just speaking about a loose connection, in that we'll first see Peggy in Agent Carter, and then in Ant-Man (as well as The Avengers: Age of Ultron). An appearance from one of the Ant-Man characters is unlikely. Most of the ones we know about haven't been born yet, and if Hank Pym is around the same age as his actor Michael Douglas, that would only make him a toddler in the Agent Carter time period. Depending on how subtle this connection is, it could be something as simple as a company logo that will be seen in Ant-Man or referencing an event that will be elaborated upon in the July blockbuster. Hey, no one said it had to be anything as big as Nicky Fury popping by for a conversation!
Marvel has always been clever with tying their movies to each other, so whatever Agent Carter has planned with Ant-Man, it's sure to be something that will have Marvel fans pointing at their screens and writing on message boards and comment sections "Hey, did you see what they did?!?!" You can catch the two hour premiere of Agent Carter tomorrow at 8 p.m. ET on ABC.
Your Daily Blend of Entertainment News
Connoisseur of Marvel, DC, Star Wars, John Wick, MonsterVerse and Doctor Who lore. He's aware he looks like Harry Potter and Clark Kent.