How The Flash Will Start Playing With Timelines In Season 2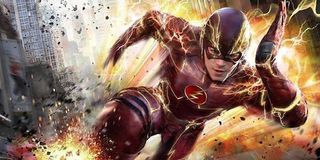 Thanks to time travel playing a key role on The Flash, viewers of the series are getting a sense of how easy it is for those with super speed to change the course of history. We've already seen this directly unfold once when Barry inadvertently traveled back in time during his battle with Weather Wizard, and presumably Harrison Wells killing Barry's mother overwrote the timeline that the Flash originally came from. When the show returns for Season 2 later this year, alternate realities will be explored even further, both through time traveling and other means. Here's what series star Grant Gustin had to say about what's coming up in a recent interview:
In the interview with TV Guide, Gustin mentions that not only will The Flash be exploring several different timelines, but the show will also delve into the DC multiverse. In case you're looking at Gustin's comments about different Earths with a blank stare, let me explain. The concept of parallel Earths in DC Comics was established in 1961's The Flash #123 when Barry Allen met Jay Garrick, the first Flash created in 1940. On Earth-One, Barry was inspired to become the Flash after reading a fictional comic book featuring Jay, but as he soon discovered, Jay was actually a real hero that lived on the parallel Earth-Two with the other DC Golden Age heroes, a.k.a. the Justice Society of America.
These worlds are among the many that exist in alternate universes and realties, which altogether make up the DC multiverse. Parallel universes have also been explored on shows like Star Trek and Fringe, in case you need a non-comic book reference point.
Between alternate timelines and alternate Earths, Barry Allen certainly won't be lacking in terms of seeing what life would be like if things had gone differently. He'll have to be careful with the time traveling, since it's not a guarantee that changing the past results in a better future, let alone being able to remedy any mistakes made. As for Earth-Two, that's just the beginning of the multiversal journey, as it opens the door to even more Earths being introduced. Take for instance Earth-Three, where all the DC hero analogues are actually supervillains. Barry facing down an evil doppelgänger (who would hopefully be named Johnny Quick) from another universe would be even better than when he fought that shapeshifter disguised as him. For me, I'd be happy enough if Barry got to team up with Jay Garrick and The Flash replicated that comic book cover above.
If the showrunners really wanted to go crazy, they could somehow cross an episode over with the original 1990 Flash series which starred John Wesley Shipp, who plays Henry Allen in the current series. Imagine how freaked out Barry would be to discover that on another Earth, there's an older version of himself that looks just like his dad! Then of course there's having TV Flash interact with the DC Cinematic Universe Flash, played by Ezra Miller, but we already know that's unlikely to happen.
Your Daily Blend of Entertainment News
Connoisseur of Marvel, DC, Star Wars, John Wick, MonsterVerse and Doctor Who lore. He's aware he looks like Harry Potter and Clark Kent.