How I Met Your Mother Will End With Season 9, The Mother Will Be Revealed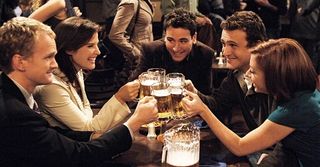 How I Met Your Mother fans, there's good news and bad news. The bad news is, CBS has confirmed that Season 9 will be the show's last. The good news is, the moment when we finally do meet the mother is coming. CBS made the official announcement today that the ninth season will finally live up to the show's title.
Back in December the show was renewed for Season 9, with all of the ensemble cast signed on to return. Until today's announcement there was still some chance that we might learn who is behind the yellow umbrella in the current season, but it's now clear that won't happen. But Dana Walden and Gary Newman, Chairmen of 20th Century Fox Television say we can expect "a gratifying conclusion when they finally reveal the identity of the Mother." Nina Tassler, President, CBS Entertainment, offered her statement on the final season:
While plenty of fans of the show, myself included, have been getting a little impatient for the big reveal, CBS is asking us to hang in there for one more season. Neil Patrick Harris, Josh Radnor, Jason Segel, Cobie Smulders, and Alyson Hannigan are a talented and very funny group of actors who have kept this series going for eight seasons, but the wait for the mother to show up has started to feel like it's dragging on a bit. Hopefully this last season will make up for stringing us all along for so many years with a truly phenomenal conclusion.
A show that's been on the air this long has a lot to live up to in a final season, and this one may have more than most after keeping such a big secret for so long. Here's hoping the ending is as satisfying as we've been promised.
How I Met Your Mother airs Mondays at 8 p.m. EST.
Your Daily Blend of Entertainment News
Thank you for signing up to CinemaBlend. You will receive a verification email shortly.
There was a problem. Please refresh the page and try again.