Inglourious Basterds Star Diane Kruger Cast In FX Pilot The Bridge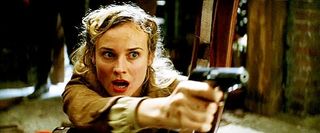 FX's new drama pilot, The Bridge, has found its leading lady in an actress who has never before make an appearance on American television. Diane Kruger, who has starred opposite Brad Pitt twice--in Troy as well as in Inglourious Basterds--has just been cast as the female lead for the cross-border cop drama.
The Bridge focuses on two police detectives, one in the U.S. and one in Mexico. Deadline says Kruger will play the American cop, Sonya North, an El Paso Police homicide detective. She's described as a cop free of sentimentality, or really any kind of warmth, who speaks her mind and apparently lacks a filter when it comes to calling it like it is. When a serial killer begins taking down victims on both sides of the border, she finds herself joining forces with Mexican detective Marco Ruiz in order to hunt the killer down. The role of Ruiz has yet to be cast.
The Bridge is adapted from a Scandinavian format and the pilot is set to film in El Paso, as well as in Los Angeles, this fall. Kruger has been pretty busy with her film career. She just played Marie Antoinette in Farewell, My Queen and has both The Host and The Green Blade Rises on the horizon (the former is done filming while the latter is just getting production underway). If the FX pilot makes it to series, she'll be one seriously busy lady, that is, if she keeps up her feature work on the side.
Your Daily Blend of Entertainment News