Iron Fist Will Be Played by A Game Of Thrones Actor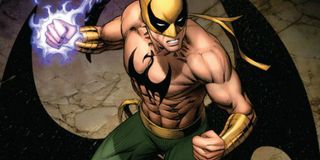 Marvel's Netflix properties have become a microcosm of the greater Marvel Cinematic Universe. Slowly but surely the dark, gritty boroughs of New York have begun to fill up with iconic, violent characters. While Daredevil, Jessica Jones, Luke Cage, and The Punisher have all been cast and showcased to the world, one character remains noticeably absent: Iron Fist. Up until now we have heard very little about the potential casting for the Marvel badass, but now it seems the comic book giant has found its Danny Rand, and he hails from Westeros. Actor Finn Jones will portray the character.
A new rumor leaked to That Hashtag Show suggests that Marvel Studios may have found an Iron Fist for their Netflix universe in Game of Thrones actor Finn Jones. Jones has made a name for himself as Ser Loras Tyrell on the hit HBO show, but has not really done much mainstream acting outside of the fantasy series. Other outlets later confirmed the casting.
The source that leaked the information also accurately reported the casting of Natalia Cordova-Buckley as Slingshot on Marvel's Agents of S.H.I.E.L.D. so there's at least some degree of credibility to these rumors. It also helps that Luke Cage's Mike Colter also let it slip a while back that Danny Rand had already been cast. Then, Netflix officially confirmed the news that the GOT actor would definitely be the star of the show.
Overall this casting makes sense. Finn Jones has generally the right look for Iron Fist, and he seems roughly the right age. In fact, he seems to resemble numerous other actors who had previously been rumored for the role, such as Ryan Philippe.
Some earlier rumors had also suggested that Marvel had looked into casting Asian American actors in the role of Iron Fist, but if this casting holds up, that simply won't be the case. Considering Iron Fist's penchant for martial arts and overall Asian aesthetic, this might be a wasted opportunity for increased superhero diversity, but Finn Jones remains a talented actor and we cannot complain about the casting too much.
Daniel Rand a.k.a Iron Fist represents an incredibly different direction not only for Marvel's Netflix series, but also for the Marvel Cinematic Universe as a whole. The son of a wealthy businessman, Rand is a martial arts master who can harness a mystical power that enhances his physical attributes in combat. Even the most outlandish characters in Marvel's Netflix properties have at least had abilities with some degree of basis in science; now it seems that they are following the overall Marvel trend of moving closer to the realm of magic and the mystical.
We will bring you more information related to the Iron Fist casting news as it becomes available. A release date for the Iron Fist series has yet to be announced by Marvel or Netflix.
Your Daily Blend of Entertainment News
Originally from Connecticut, Conner grew up in San Diego and graduated from Chapman University in 2014. He now lives in Los Angeles working in and around the entertainment industry and can mostly be found binging horror movies and chugging coffee.