It's Always Sunny In Philadelphia Goddamnit Supercut Is Longer And Funnier Than Expected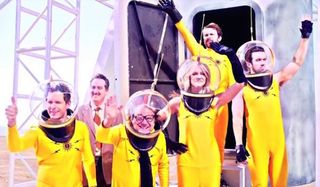 It's Always Sunny In Philadelphia is one of the great comedy shows of the 21st century. It's ridiculous, it's deranged, it's vulgar and most importantly it's funny. Thanks to this ambitious video, we can all now watch the Paddy's Pub gang celebrate the use of the phrase "goddamnit," something they say far more than many of us have ever imagined.
While I was fully aware that Charlie, Dennis, Mac, Dee and Frank all dropped a "goddamnit" here and there, I didn't realize they were absolutely infatuated with the term until YouTube user Rat King put together this video. It may not seem like much when you hear it uttered in the show, (even thought it clearly it happens every fifth word of dialogue!) but when you watch the gang say "goddamnit" and only "goddamnit" for the length of six-and-a-half minutes straight, you really begin to appreciate it. I mean, sometimes it takes a video like this to really bring a term like "goddamnit" to its fullest potential, right? If you watch the vid two or three times you should begin to spot some of the show's great from big episodes including the "The Nightman Cometh" and "Paddy's Pub: Home of the Original Kitten Mittons." That's what I did, and "goddamnit," it felt good. I'm guessing that it will now probably be impossible to watch an episode again without catching at least half a dozen "goddamnits."
While the non-viewing audience may look on and wonder what the hell the fascination is with It's Always Sunny In Philadelphia and all of its negative bickering, its dedicated fans long ago understood its brilliance and eagerly await each and every episode to see its charactera degrade and double-cross one another in entirely new ways. Since its humble beginnings back in 2005, the show has graced audiences with episode after episode of totally off-center humor thanks to the comic brilliance of Glenn Howerton, Charlie Day, Kaitlin Olson, Danny DeVito and Rob McElhenney (who also created the show). They've helped bridge the gap between reality and television while somehow widening it to an entirely new level. They're awkward, strange, creepy and they always challenge the boundaries of comedy.
It's Always Sunny In Philadelphia has moved to FX's new network, FXX. It just returned for its 10th Season, launching the new episodes through a hilarious trailer that saw the gang flying through space. Fans should also be pleased to learn It's Always Sunny has been renewed for Season 11 and 12, as well. Episode 2 hits the schedule this week, so be sure to tune in on Wednesdays at 10 p.m. ET, only on FXX. Watch it, goddamnit!
Your Daily Blend of Entertainment News
Your Daily Blend of Entertainment News
Thank you for signing up to CinemaBlend. You will receive a verification email shortly.
There was a problem. Please refresh the page and try again.