It's A Secret Girlfriend Over Lana Lang For Hitched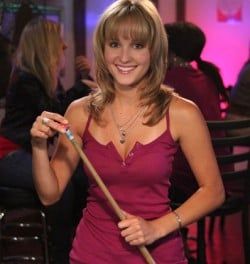 If you were looking forward to watching Kristin Kreuk (Smallville, Chuck) mark her series return to television on CBS's forthcoming comedy Hitched (assuming it gets past the pilot stage, that is), sorry to have to disappoint you. Kreuk has been replaced by Sara Fletcher (Secret Girlfriend), according to Deadline Hollywood.
As much of an ambitious trainwreck as Secret Girlfriend turned out to be, Fletcher was actually pretty effective with her performance as the girl of your dreams. Hitched comes to us from Josh Schwartz, who also brings us Chuck, so Kreuk seemed a lock. At this time, there's no explanation for why she's being replaced, which means we're free to speculate away. Was she fired? Did she quit? Is she coming back to the Buy More?
it may be a simple as Kreuk not being able to acclimate to the very different environment and acting demands needed for a half-hour sitcom. She's proven she nows how to be charming and witty and funny, but if she couldn't quite get comfortable in the format, that would throw the show's chances of a pick-up out the window.
The last-minute change came just before the table read for the pilot, so it looks like it was a reluctant move. The series is about a newlywed couple and their extended family, featuring veteran actors Eugene Levy, Kurtwood Smith and Sharon Lawrence. Fletcher's husband is portrayed by Jack Carpenter (I Love You Beth Cooper, The Return of Jezebel James).
Your Daily Blend of Entertainment News
Your Daily Blend of Entertainment News
Thank you for signing up to CinemaBlend. You will receive a verification email shortly.
There was a problem. Please refresh the page and try again.