Jason Sudeikis Joins HBO's Eastbound and Down For Season 3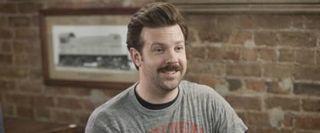 A few years back, I thought Jason Sudeikis was probably the most boring SNL cast member in what was already a pretty weak cast (Kristen Wiig excepted, of course). Then he started to spread his wings on the live skit show, no longer always relegated to playing the straight guy, and appeared in some great bit parts in 30 Rock, The Rocker, and Going the Distance (what a stache!). And his star only seems to be continuing its rise.
Not only is Sudeikis one of the leads in this weekend's breakout R-rated comedy, Horrible Bosses (alongside the equally funny and talented Jason Bateman and Charlie Day...check out Katey's four-star review), but he also just landed a pretty sweet gig on HBO. According to Variety (opens in new tab), Sudeikis "is set for a recurring role on the upcoming season of HBO's Eastbound & Down. Sudeikis will play Shane, a new friend of the politically incorrect ex-Major League pitcher Kenny Powers, played by Danny McBride."
Judging by Kenny's other friends (Stevie Janowski, or Clegg) I can only imagine what this "friend" will bring to the E&D table. Probably hefty doses of debauchery. From their breakout season, which saw Kenny's fall from grace to become a middle school gym teacher, to last year's fiestas in Mexico, the show has been consistently spit-take funny (if you like McBrides's one-trick shtick), so I have high hopes for Season 3's return to Shelby, North Carolina. Will Stevie's new wife be there? Will Kenny still chase after April (Katy Moxon)? Will he make it back to the bigs?
Eastbound and Down was created by McBride, Jody Hill, and Ben Best (who plays the coked-out bartender, Clegg) and often features David Gordon Green in the director's chair. It returns to HBO for Season 3 late(r) this year.
Your Daily Blend of Entertainment News
Thank you for signing up to CinemaBlend. You will receive a verification email shortly.
There was a problem. Please refresh the page and try again.