Jean Smart Joins The Smart One Pilot At ABC Along With Malin Akerman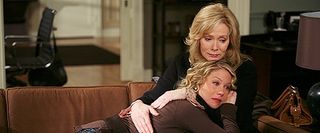 Two more actresses have been brought on board ABC's pilot for The Smart One opposite Portia de Rossi. One has even got her name in the title, while the other is coming off a role in the Jennifer Aniston feature Wanderlust. These two ladies complete the leading female roles for the pilot.
Deadline reports the Jean Smart has been tapped for the pilot as well as Malin Akerman. They'll play Portia de Rossi's mother and sister, respectively. Smart, who must have appreciated the name of the series, has been pursued for a number of pilots this season, while Akerman has been absent from television for a while working on roles in feature films.
The Smart One is about two sisters, one of whom is popular and perfect (Akerman) and has been a weather girl and beauty queen and is now the mayor of a big city, the other who is the show's namesake – the "smart one". Portia de Rossi will play this role, and find herself going to work for her not so bright (but somehow mayor anyway) sister. I'm not sure if we are supposed to believe the usual tale that the intelligent sister is also the less attractive, but if so that was not a great casting move. Portia de Rossi can't really be considered unattractive by most standards. But hey, there's always Hollywood ugly.
Jean Smart, who is no stranger to television and recently appeared on Samantha Who, will play the mother of the two girls. What type of mother she's expected to be is unclear, but from the premise I suspect she plays favorites. The Smart One is one of two projects being developed by Ellen DeGeneres, with Don Todd (Ugly Betty) writing.
Your Daily Blend of Entertainment News
Thank you for signing up to CinemaBlend. You will receive a verification email shortly.
There was a problem. Please refresh the page and try again.