Jennifer Garner's Vandalia Films To Produce Cartoon Marriage For ABC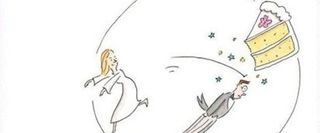 I've seen a front porch swing, heard a diamond ring, but I've never seen Jennifer Garner at the helm of such a strange TV project. Especially not a comedy based on a book about a real life cartoonist couple that she won't even be starring in. That, however, is exactly the topic Jennifer Garner's production company, Vandalia Films, is excited about producing.
Don't let the film portion of her company's title fool you. Cartoon Marriage, based on the book of the same name by cartoonists couple Liza Donnelly and Michael Maslin , has been bought by ABC. No details yet on plot or characterization; however, the book follows both Donnelly and Maslin's separate perspectives as they learn to work, live, and love together. According to Deadline, Garner will be very involved with the new project. She is on board to executive produce, along with production partner Juliana Janes.
The Cartoon Marriage book is unsurprisingly written in cartoon format, so the real question here is whether the program will stay true to form or branch out into live action. ABC isn't exactly known for its animated comedies, but I can't imagine a program called Cartoon Marriage avoiding cartoons. Since Terri Minsky - of Lizzie McGuire fame - is creating the program, I wonder if Cartoon Marriage will have the same basic format, with the characters reacting in real-life but thinking in cartoons. Hey, if it worked for middle school drama, I'm sure it could work for less-than-perfect coupledom.
Your Daily Blend of Entertainment News
Thank you for signing up to CinemaBlend. You will receive a verification email shortly.
There was a problem. Please refresh the page and try again.