Jericho Could Get A Second Chance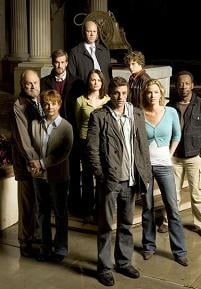 The "nuts" have made their position clear, and CBS has listened. It looks like the campaign to save fan favorite 'Jericho' may not have been as crazy as outsiders thought. After CBS pulled the plug on the show about a town surviving the aftereffect of a nuclear holocaust, fans began sending bags of nuts to executives at the network. The act was meant to symbolize the networks nutty decision to end the show, as well as a reference to a phrase that premiered on 'Jericho' during the season finale.
Entertainment Weekly is reporting that CBS is seriously looking at giving the show a second chance. Now, nothing has been signed so a second season isn't a foregone conclusion. But the impact of tons of nuts seems to have awakened the executives at CBS to the power of the internet to galvanize a fanbase. 'Jericho' hasn't been a huge success in the ratings with around 9 million viewers each week. Fans of the show love it very much, and no doubt CBS hopes the passion shown to getting it back on the air will be used to bolster ratings. Then again, passionate fanbases haven't had much success in that arena in recent years. Both 'Arrested Development' and 'Veronica Mars' were kept on the air due to fan outcry, but the ratings never improved. Hopefully 'Jericho' can have a 'Family Guy' style return to television.
CBS is considering ordering seven episodes to air in the winter or spring. At the least we'll see the conclusion of that climactic firefight that ended the finale. If the ratings improve in those episodes then a full 22 episode second season will be ordered. Many of the actors and creative team behind the show have started to move on, but the hope is that Skeet Ulrich and some of the major players will be able to return. 'Jericho' without Jake would be pathetic, but not as much as it would be if Stanley missed out on the action.
Staff Writer at CinemaBlend.
Your Daily Blend of Entertainment News
Thank you for signing up to CinemaBlend. You will receive a verification email shortly.
There was a problem. Please refresh the page and try again.