Jimmy Fallon Is Turning Lip Sync Battle Into A Series, Get The Details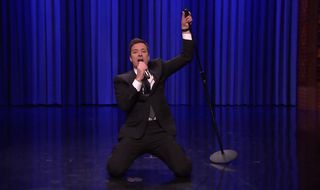 It was only a matter of time before Jimmy Fallon's staple bit caught fire enough to warrant its own series. Fans have been flocking to YouTube to watch "Lip Sync Battle" segments over the last few months, and now, they'll be able to head to cable to watch their favorite celebrities rock out to their favorite jams in a brand new series.
According to Deadline, the series will air on Spike TV. It is being spearheaded by Fallon's production company, likeable comedian Stephen Merchant and Casey Patterson of Viacom Entertainment Group. Here's an official statement from the production company...
In addition to Merchant and Fallon, The Office alum John Krasinkski will also be producing the new half hour original series. Every episode of Lip Sync Battle will feature celebrities going one on one, choosing their own set list and battling for the rights to be king or queen of the mic. The series is set to tape in January in New York City and has a firm premiere date of April 2, 2015. Their is no word yet on just who will be hosting the new show that is already generating positive buzz, but we will keep you filled in on details in the coming months.
The history of TV has featured a ton of beloved late night bits. Almost none of them have gotten their own series. Pretty incredible when you think about it. There is no doubting the power of YouTube, though. In fact, one of the "lip sync battles" between Joseph Gordon-Levitt, Stephen Merchant and Jimmy Fallon has gotten more than 30 million views. You can watch the three belt out Elton John's "Tiny Dancer", Nicki Minaj's "Super Bass" and more below...
Right now it seems like anything Tonight Show host Fallon touches has the potential to turn to gold. No reason not to ride the wave and see how the staple bit does on cable TV. And with Fallon's direct involvement and an impressive roster of executive producers, fans are already clamoring to hear their favorite hits get the lip sync treatment.
Your Daily Blend of Entertainment News
Thank you for signing up to CinemaBlend. You will receive a verification email shortly.
There was a problem. Please refresh the page and try again.