Watch Brad Pitt and Jimmy Fallon Breakdance On The Tonight Show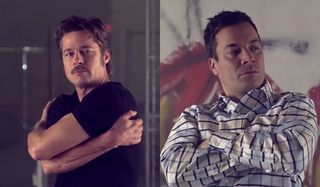 For whatever reason, Brad Pitt has taken a liking to Jimmy Fallon and his ridiculous onscreen shenanigans. The two have come together to create viral videos before, and last night The Tonight Show Starring Jimmy Fallon introduced a brand new video from the dynamic duo, called "Breakdance Conversation." You can check it out, below.
The Tonight Show video starts with Fallon in an old warehouse. He's wearing a checkered shirt and puts together some spiffy dance moves to go along with his polished outfit. When he's finished, he hears music from the other side of the warehouse. There's another dude breakdancing who looks pretty fit. When the second guy finishes, he looks up and we see that it's Pitt, sporting that same creepy mustache he had in Inglourious Basterds. He has another war movie coming up, and via break dancing, the two men chat about their lives, as well as Pitts' upcoming movie, Fury. It's pretty irreverent, but the breakdancing also ain't half bad.
This is the second team-up for Pitt and Fallon, who put together another goofy video last year called "Yodel" before Fallon was even the host of The Tonight Show. I'm not sure how sound it is to keep producing the same ideas for The Tonight Show that he used on his late late show, but we'll give him a pass this time, because Brad Pitt. The original video followed the two men yodeling a conversation from rooftop to rooftop. Yodeling is definitely a funnier stunt, but breakdancing also requires more physical skill (at least from the stunt doubles).
In any case, the sketch is a smart move for Pitt, who capably promoted Fury without having to actually appear on The Tonight Show stage and go through the motions of a late night interview. If there's one thing Fallon is good at, it's putting his celebrity guests at ease, whether that means dressing them up as teenaged girls and acting awkward or forcing them onto Tinder for the first time. On a serious note, most of his sketches and games are a hoot for fans, as well as the celebrities involved.
You can catch The Tonight Show Starring Jimmy Fallon on weeknights on NBC at 11:35 p.m. ET.
Your Daily Blend of Entertainment News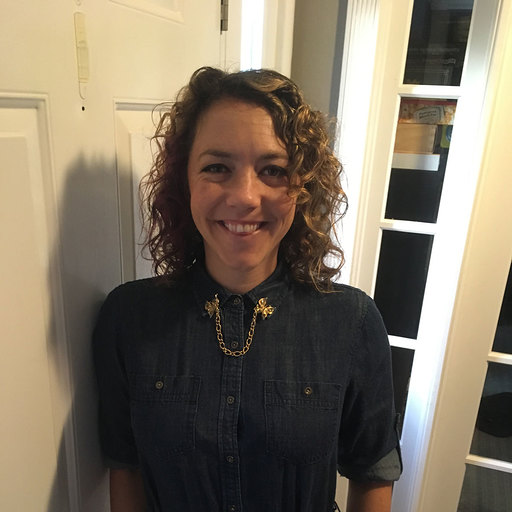 Reality TV fan with a pinch of Disney fairy dust thrown in. Theme park junkie. If you've created a rom-com I've probably watched it.