Jimmy Kimmel And Ellen DeGeneres Have A Nice-Off On Jimmy Kimmel Live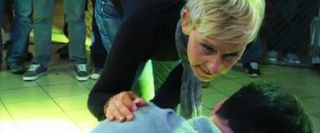 Even though he has one of the more consistently funny shows on television, it seems like Jimmy Kimmel is often forgotten in the 'best of late night' conversation. Even newcomer Jimmy Fallon seems to get more talk, but I guess that's because of NBC's long-standing late-night tradition versus Jimmy Kimmel Live's relatively new entry into the format. However, Kimmel's show has an air of freshness that's often lacking in the genre and, thanks to the help of a day-timer, he's delivered another great sketch.
It was only a few months or so ago when Harrison Ford visited the ABC program, which resulted in an instant viral video of the aging action star settling a feud between him and his former co-pilot, Chewbacca. Just the fact that the funnyman was able to get Ford, a notoriously difficult interview, to play along in a skit about Star Wars, a topic he's so often refuses to discuss, was amazing. On top of that, it was absolutely hilarious. I mean, who will ever forget hearing Harrison utter the words, "Daniel Craig is my Wookiee bitch now." Brilliant.
However, this time around Kimmel himself participates in the video, which pairs him against day-time talk show host, Ellen DeGeneres, in a nice-off. That's right. Kimmel's a little sick of people not knowing just how nice a guy he can be, and when he sees everyone gushing over Ellen's friendliness, he takes offense and goes on the nice offensive. To be fair, in the first part of the interview I think Jimmy might even appear nicer (they get into a little bit of Dr. Strangelove-style banter) but then, well, did he ever have a chance? It's Ellen for God's sake.
Jimmy Kimmel Live airs every night at 12 a.m. ET on ABC.
Your Daily Blend of Entertainment News