Joel McHale Is Joining The X-Files, Get The Details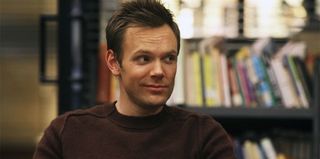 When you think of Joel McHale, the first thing that probably springs to mind is the sarcastic smart ass persona that shines through on shows like Community or his hosting duties on The Soup. Well now the Washington native is bringing his particular brand of humor somewhere you might not automatically expect, to Fox's upcoming reboot of The X-Files.
That's right, according to The Hollywood Reporter, McHale is joining Mulder and Scully for some paranormal investigation fun. While returning faces like David Duchovny, Gillian Anderson, and Mitch Pileggi have all signed on to return, McHale marks the first new addition to be announced for the limited event series from creator Chris Carter and the show's original network.
According to the report, McHale is going to play a character named Tad O'Malley. He is the host and anchor of a conservative internet radio show and becomes and "unlikely ally for Mulder." It'll be interesting to see if O'Malley is a Fox News style conservative pundit, or if we're talking full-blown, off the reservation, conspiracy theory spouting wing nut. Given Mulder's proclivities, as well as the fact that O'Malley broadcasts online, we're going to go with the latter. That also sounds like way more fun
At the moment it's not clear whether or not O'Malley is going to be a recurring character or if he'll just be a one off. Maybe he helps Mulder dig into whatever conspiracy, cover-up, or alien incursion he's investigating this time. It also remains to be seen how much of McHale's sense of humor will be allowed to come through the character. He's played straight before, but he's always been best known for his comedic chops, going all the way back to his early days on Seattle-based sketch comedy show Almost Live. And he's just so damn good playing a smarmy dick that it seems a waste not to use him in that capacity. Then again, he's an internet talk show host, which leaves plenty of time for jackassery.
After NBC finally cancelled Community, the embattled sitcom was picked up by Yahoo, where it just wrapped up its sixth season. Whether or not it comes back for a seventh season, or a movie, we'll have to wait and see, but fans are hopeful.
As for you X-Files fans out there, the first of the six new episodes will hit Fox on Sunday, January 24, 2016, appearing on the small screen for the first time since May of 2002. Duchovny and Anderson were last seen together on screen in 2008's film The X-Files: I Want to Believe, the second of two features spawned by the cult favorite show.
Your Daily Blend of Entertainment News