Katey Sagal Talks About Sons Of Anarchy, Singing And The Future Of Futurama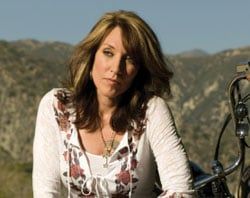 With the premiere of FX's new drama series Sons of Anarchy approaching (September 3rd!), actress Katey Sagal was nice enough to sit in on a conference call to talk to us about her role in the show. She also talks about some of her other projects, including the possibility of upcoming Futurama movies.
Sons of Anarchy centers on a motorcycle gang that lives outside the law. Sagal plays Gemma, wife and mother to high-ranking members of the gang. Of her character, Sagal, whom is probably most commonly known for playing the role of Peg Bundy in Married With Children, says, "Gemma is a fiercely loyal mother, not only to her son, also to her sort of family of club members. They're kind of this counterculture group and she's the matriarch of that group." You'll get a pretty good idea of the what Sagal is referring to regarding her fierce loyalty in the pilot episode of the series.
While Sagal does consider herself a fiercely loyal mother in her own life, she doesn't practice the same ways and means as Gemma does. "She's vicious, she's ferocious," Sagal laughs and adds, "She's a hardass." She's not joking. Based on what I've seen in the first two episodes, Gemma is a woman who does what needs to be done and doesn't appear to show remorse afterwards. Sagal went on to say, "Whatever her history is, it has left her being somebody that is a fighter. What we can expect is that if she's at all threatened by any kind of potential for a breakup of her family or harm to her son, she will go to any length to protect that and you will see that in various forms."
When asked about her thoughts on her character's involvement in a club that often engages in shady and illegal activity, Sagal commented, " I think she has no conflicted feelings about it. She's all about the club. She's all about her family. She loves her life and the lifestyle that this has provided for her. She sees nothing wrong with what she does." Later, adding, "From Gemma's perspective, she sees nothing wrong with what she does and it's all a means to an end with her. In the pilot you see some pretty harsh things when her son and grandson are threatened. And from her perspective, it's what needs to be done." I won't spoil anything for you guys on what Sagal was referring to from the pilot episode but as tough and in some ways, ruthless as Gemma is, you can definitely see where she's coming from.
Fans of Sagal might be aware of her fantastic singing voice. She even recorded an album a few years ago. At the end of the second episode of SoA there's a montage with the song "Son of a Preacher Man" playing in the background. Sagal's voice is unmistakable and she does a remarkable job with the number. Sagal talked briefly about the recording, which was inspired by Aretha Franklin's version of the song and her husband, SoA creator Kurt Sutter's decision to put the recording in the show. From the sounds of it, it was sort of a last-minute decision to have Sagal cover the song for the episode. As for the possibility of future recordings for the series, she said, "I don't know if there's any plans for it, it wasn't really planned out, it just sort of spontaneously kind of happened." We can hope that they'll find another excuse to get her voice on the soundtrack of the show in the near future. Sagal says she's not set to record any more albums anytime soon but she is doing some live performances, including one in Henderson, Nevada on October 17, 2008.
And for you Futurama fans. I asked Katey if there were any upcoming Futurama-related projects that she's involved in. She said, "Not that I know of and I would really like there to be. We shot the four DVD movies and they've released two of them already. There's another one coming out in November. We're done with recording so I don't know. Somebody has to buy some more. The blog fans and the web fans have been the most instrumental in getting that to happen." You hear that, internet? If you want more Futurama, speak up and get the word out that there's an interest. On whether we might get to see Futurama in the big screen, Katey said, she has no idea if that's a possibility and added, "It's such a smart show so that would be a great move for somebody."
Sons of Anarchy premieres on FX on Wednesday, September 3, 2008 at 10:00 p.m. ET.
Kelly joined CinemaBlend as a freelance TV news writer in 2006 and went on to serve as the site's TV Editor before moving over to other roles on the site. At present, she's an Assistant Managing Editor who spends much of her time brainstorming and editing feature content on the site.
Your Daily Blend of Entertainment News
Thank you for signing up to CinemaBlend. You will receive a verification email shortly.
There was a problem. Please refresh the page and try again.