Katherine Heigl Would Like To Return To Grey's Anatomy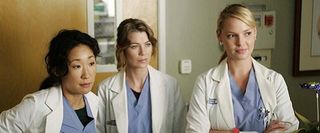 Could Katherine Heigl make a return to Grey's Anatomy in the near future? Apparently it's not out of the question, at least on Heigl's end. She told E! that she not only wants to come back, but has actually let showrunners know that she is ready and willing.
Heigl left Grey's in 2010 to focus on raising her adopted daughter and has moved into a film career with some questionable success, although landing the lead in the film adaptation of the first in the incredibly popular Stephanie Plum book series, One For the Money is certainly big news for Heigl. But it sounds like she's missing her days on the set of of Grey's and would love to see where her character might have wound up:
With several of the leads in the show facing contracts that expire after the current season, producers might indeed want to consider bringing in an old familiar face and pick up an old storyline, especially if they have to make an exit for one of their stars. Of course, the complexities of bringing back an old character and fitting her back into the current storyline, especially in a show with so many characters and subplots would be a challenge. Heigl noted that she's not certin if a return "fits in to their sort of vision for this season or next".
With Grey's still going strong and no thoughts of bringing the series to an end anytime soon, there may be plenty of time for bringing Izzie back. If Heigl wants to return, it's likely just a question of when.
Your Daily Blend of Entertainment News
Your Daily Blend of Entertainment News
Thank you for signing up to CinemaBlend. You will receive a verification email shortly.
There was a problem. Please refresh the page and try again.