Kelli Giddish Will Be Back For Good Wife Premiere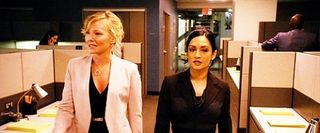 The Good Wife is riding high these days on the surprise of nine Emmy nominations – six for acting - it picked up, but the writers for the show were dealt a bit of a blow back in June when guest star Kelli Giddish landed a regular role on Law & Order: SVU – The Next Generation making her on busy lady. While definitely a huge career jump for the up and coming actress, it pose a dilemma for the direction Good Wife planned to take in season three.
The writers had planned to script Giddish's character, Sophia Russo, into a potential love triangle for the coming season, but her departure for SVU has thrown a wrench in those plans. Today TVLine reported that in spite of her commitment to her new role, Giddish will appear in the premiere episode of the third season of The Good Wife, giving writers a chance to include her character in the storyline. At this point it isn't clear whether the series will see Giddish again or if they will have Sophia Russo for only the one episode.
Series creators for The Good Wife Robert and Michelle King are happy to have Giddish back at least for the one episode and will make the most of it. The love triangle storyline remains up in the air pending Giddish's availability for further episodes, but the series will definitely pick up the new season right where it left off. The Good Wife premieres Sunday, September 25th at 9/8c on CBS.
Your Daily Blend of Entertainment News