King Of Queens Celebrates 200 Episodes And It's Final Arc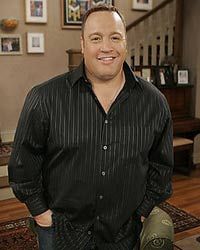 CBS' 'The King of Queens' is a good show. It's not great, has never broken through any major barriers, but it's a stalwart example of a sitcom. What Doug and Carrie Heffernan have brought to viewers over the past nine years are simply solid characters. These are down to earth people going through some funny situations. Exactly the mold that CBS had created for it's Monday night comedy line-up. As the series begins it's final seven episodes Kevin James talked about the show and how super awesome the 200th episode tonight will be.
Just like the show, the 200th episode is nothing special. The plot involves Doug (Kevin James) and Carrie (Leah Remini) fighting when they find out their friends have purchased a vacation home. Our "heroes" come to the conclusion that their "friends" have been using them by letting Doug and Carrie pick up dinner checks. It sounds pretty much like every episode of 'King of Queens' you've ever watched. You know what? It shouldn't be any other way. This show has always been common stock when it comes to sitcoms, making 'Everybody Loves Raymond' look like 'Seinfeld' in comparison.
"We just had a magical combination in the way that we had everybody in the right place at the right time," James said during a conference call today. "It was a simple story, and for some reason, people identified with it."
In a time when many fans clamor for more comedy like on NBC's new Thursday lineup, it's nice to know that there's still room for that classic sitcom style I enjoyed as a kid. I don't always tune in, but if I want to I know 'King of Queens' will deliver exactly what I ask. No more, and no less.
Staff Writer at CinemaBlend.
Your Daily Blend of Entertainment News
Thank you for signing up to CinemaBlend. You will receive a verification email shortly.
There was a problem. Please refresh the page and try again.