Kym Johnson Experiences Bad Fall In Dancing With The Stars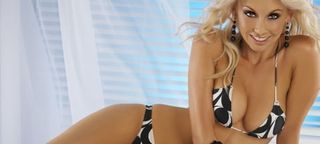 Dancing With The Stars keeps on tugging along, now in its' twelfth season with 'stars' like Steelers player Hines Ward, Karate Kid legend Ralph Macchio, and Disney Channel star Chelsea Kane competing for the 'mirror ball' trophy. It's not all easy and breezy dancing though, while not as dangerous as a professional hockey game, a bad fall by professional dancer Kym Johnson displayed just how close the dancers come to danger every time they step on the floor. Check out the video on People to see what everyone's talking about.
In the video, Ward pulls Johnson by her ankles in order to (I assume) flip her, causing her head to whip around and take his legs out from under him. He then falls on top of her, causing her neck to bend inward with her chin touching her chest.
Johnson was a professional ballroom dancer in Australia and a model before beginning work with DWTS. She has been a member of the show since 2003 and has danced with 'stars' like David Hasselhoff, Donny Osmond, and Jerry Springer.
When you consider the severity of that fall, it's no wonder that Ward feels partially responsible and exceptionally protective of his professional dancing partner. The fact is that it'll take a very strong performance in the next week to topple Mark Ballas and Chelsea Kane, a group that held a solid grip on first place in the last voting; which isn't surprising, the only season of this show that I watched saw Ballas and Olympian Shawn Johnson run away with first place whilst never looking back. Point being, Ward and Kym Johnson are going to need a full-out balls-to-the-wall type of performance to snag first place, and it's hard to say if she can give that based on her recent injury. Even if she can, one has to wonder if it's even worth the possibility of injuring herself further for a chance to win a sparkly ball.
Your Daily Blend of Entertainment News
Thank you for signing up to CinemaBlend. You will receive a verification email shortly.
There was a problem. Please refresh the page and try again.