Lena Dunham Says Girls Will Get a Third Season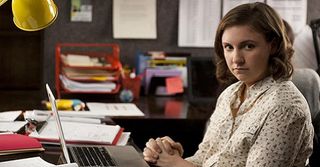 Although HBO hasn't given Girls an official third season renewal, yet, word is that it's happening, which really should come as no surprise. Lena Dunham, who picked up a Golden Globe for her work on the show the same night it won Best Comedy, confirmed that there will be a third season on Thursday.
Dunham spoke with Alec Baldwin this morning during his podcast Here's The Thing, saying that the third season of the hit HBO comedy is a sure thing. She told Baldwin that the show will begin production on the new season in March, noting that she is "so excited." So while we don't have the news in stone just yet, it does look like fans can look forward to another season.
Girls just started airing Season 2, premiering on the same night as the big Golden Globe wins for the show, with ratings down slightly from the first season. But taking home a few statues certainly can't hurt the series and pretty much ensured that we would be seeing another season along the line. Deadline says the show has closed a deal to bring back executive producer Jenni Konner as showrunner alongside Dunham, although co-executive producer Bruce Eric Kaplan will be moving on to work on his own new project for HBO; he'll be replaced by Paul Simms. Interestingly, Girls will start production on the new season on the soundstage that was occupied by Alec Baldwin's soon-to-depart 30 Rock.
Girls' second season airs on Sundays at 9 p.m. EST on HBO.
Your Daily Blend of Entertainment News