Leno And Kimmel Visit The Other Side Of The Desk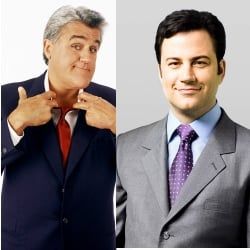 It looks like the writers strike has forged some unlikely alliances. Faced with a dwindling list of potential guests and a lot of airtime to fill, Jay Leno and Jimmy Kimmel are attempting a ratings grab by agreeing to be guests on each other's shows. While Kimmel and Leno may be on different networks, ABC and NBC respectively, they are in the same boat. Unlike their CBS counterparts, Dave Letterman and Craig Ferguson, Leno and Kimmel came back to work last week sans writers.
SAG's recent announcement that its members would not be attending The Golden Globes means that any chance the writerless hosts had of scoring any actors is pretty much gone. Without its normal stable of guests, the hosts are joint forced to think of new and creative ways to grab headlines and ratings. In a statement released by NBC and ABC Sunday, Leno said of the stunt, "There are only a few people in the world who know how tough this job is. Jimmy is one of them. It will be fun to discuss who's a good guest, who's a difficult guest and everything else that comes with sitting behind these desks."
Part of the reason for the two network rivals joining forces is probably their growing frustration with the strike. Both hosts paid their non-writing staff out of their own pockets up until they came back on the air. Since returning, both have expressed their displeasure with the ongoing strike and the deal that the WGA worked out with Worldwide Pants that allowed Letterman and Ferguson's writers to come back. On his first night back, Kimmel said, "I don't want to depart too much from the party line, but I think it's ridiculous…I don't know. I just think at a certain point you back off a little bit…I'm pissed off, I'll be honest with you." Whether they'll keep it light and fun or spend the time commiserating about how pissed off they actually are remains to be seen. The special episodes of Jimmy Kimmel Live and The Tonight Show with Jay Leno are scheduled to air on January 10.
Your Daily Blend of Entertainment News
Your Daily Blend of Entertainment News
Thank you for signing up to CinemaBlend. You will receive a verification email shortly.
There was a problem. Please refresh the page and try again.