Limitless Review: CBS' Drama Is Showy But Not Mindblowing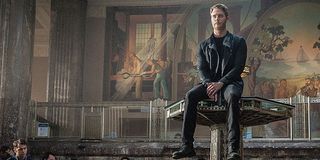 CBS has put a lot of its marketing efforts into Supergirl this fall. However, there's another new CBS drama hitting the schedule this upcoming week. This one is Limitless, based on the Bradley Cooper flick of the same name. While not as big budget or special effects-worthy as the aforementioned superhero series, Limitless still has a "super" component, focusing on a drug that can enhance IQ and the underachieving young man who takes it.
Jake McDorman's the right kind of guy for this role. In Limitless he plays Brian Sinclair—the guy his family loves despite the fact he can't ever quite get his act together. Then, he's introduced to NZT, a drug that expands his mind. He figures out what is troubling his aging father. He helps out female employee while working a temp job. Unfortunately, the NZT also causes trouble, wreaking havoc on his body just as FBI agent Rebecca Harris (Jennifer Carpenter) tries to pin him for an NZT-related murder.
Limitless, similar to the other movie-turned-TV-series Minority Report, spends its first hour working quickly and efficiently to explain the premise. Craig Sweeny's new drama also capably explains the effects of the drug, which allows individuals to use a higher percent of their brains. Then it moves forward with its eye on the bigger prize: how NZT could change the world. It's well done and efficient but not emotionally engaging. It's striking but not investing. Although I have no doubt the show will fit right in within CBS' lineup, there's something about the drama that is sleeker than it is impactful.
Limitless follows the same sort of format that other case-of-the-week dramas on CBS use, although this one is attempting to be a little more serialized, with an overarching storyline related to NZT and its effects. As noted prior, the pilot gets through a lot of information in a very short time in a way that articulates the characters motivations and sets up for the future. It's not heavy-handed and it doesn't dumb down its audience (although you do have to buy into the NZT brainpower stuff), it just feels like it's missing something, and I think that something may be a level of investment in the characters. On popular CBS shows like Scorpion and Criminal Minds, there's a level of familiarity and connection with the characters built in to bring people back for more. Limitless doesn't have that, but in lieu of likability it also doesn't quite have complex or intriguing characters such as The Good Wife, either.
I really wanted to like this pilot. The pacing in the first episode works, the cast is suitable and if you watched the movie, you know the premise going in, so theoretically you should know whether or not a show of this ilk is right up your alley. Even the Bradley Cooper inclusion is executed in a way that makes sense. But I found myself so disengaged through the whole thing that it would take a miracle to bring me back for round 2. There are pilots that need work and show promise, pilots that are great off the bat but don't live up to their promise in later episodes, and pilots that are awful right from the start. Limitless is none of these things. It's just a bit boring, and that may be the worst thing I could say about a new TV show.
Rating:
Limitless premieres on Tuesday, September 22 at 10 p.m., only on CBS. If you already have CBS' streaming site, you can catch the pilot (opens in new tab) before it airs. If you'd like to see when the rest of your fall favorites are returning, please check out our fall TV premiere schedule.
Your Daily Blend of Entertainment News
Reality TV fan with a pinch of Disney fairy dust thrown in. Theme park junkie. If you've created a rom-com I've probably watched it.