How Much Bradley Cooper Will Be Involved In The Limitless TV Show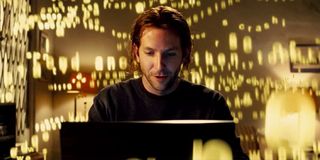 The Limitless TV show is getting better by the minute. News broke this morning that Bradley Cooper is going to be involved with the upcoming CBS drama. He's set to join the cast of the new show, but not in the way you may be thinking.
Bradley Cooper will have a recurring role on the new CBS fall series, Limitless, throughout the first season, schedule permitting. Bradley Cooper, of course, famously portrayed the lead character, Edward "Eddie" Morra in the 2011 film version of the thriller. In addition to his recurring role, Cooper and his co-star in the film, Robert De Niro, will both serve as executive producers on the new TV show. The news comes from CBS' upfront presentation, which IGN writer Eric Goldman shared via a Twitter.
Limitless will center on Brian Finch (Jake McDorman) and his journey, during which he will discover the powerful effects of the drug NZT. He'll then use his newfound and extraordinary cognitive abilities to aid the FBI in solving cases. Cooper will reprise his role as Eddie Morra, with the TV show picking up right where the film left off in 2011. Morra won't have changed much since the 2011 movie. He's now a high-end politician in the senate who is working to be the president. As Goldman pointed out, Cooper's involvement will be limited, but it is likely to contribute to the potential success of the upcoming show.
Cooper's schedule is pretty full in the near future. The Guardians of the Galaxy actor is not only be involved in another TV project for Netflix, Wet Hot American Summer, but will also star in three upcoming films to be released before the end of the year. The first is a film titled Aloha, in which he co-stars with Emma Stone and Rachel McAdams, Cooper plays a defense contractor who is sent to Hawaii to oversee a weapons satellite launch. In Adam Jones, Cooper plays the title role, a chef who is on a mission to assemble the best restaurant team. Cooper's final project to be released this year is simply Joy. In spite of all these projects, however, it says a lot that Cooper is so committed to Limitless, likely because he has a producing credit on the show, and stands to gain should the series be successful.
Limitless will air Tuesdays on CBS starting this fall. You can check out the rest of CBS fall schedule here. Unfortunately, the network has not given us a full look at Limitless, yet, but you can take a look at what other shows this fall will offer, here.
Your Daily Blend of Entertainment News
Your Daily Blend of Entertainment News
Thank you for signing up to CinemaBlend. You will receive a verification email shortly.
There was a problem. Please refresh the page and try again.