Looking Review: HBO's New Dramedy Doesn't Find A Connection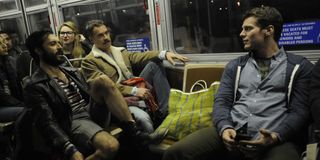 Since this comparison is showing up in every single of review of HBO's Looking, let's get it out of the way immediately. Except for the most superficial details, Michael Lannan's series about the lives of three gay men in San Francisco's Castro District is nothing like Lena Dunham's Girls, the network's dramedy that follows the lives of four women in Brooklyn's Greenpoint. Yes, they sound similar on the surface, hence the superficial disclaimer, but "Looking For Now," the debut episode of the new show, doesn't have a unique voice like Dunham's divisive multiple award winner. For lack of a better word, it's kind of milquetoast.
Perhaps that's the point? To not only have a series that focuses on gay characters but one that attempts to realistically portray that lifestyle. Just to be a fly on the wall during the (sort of) transitional moment in the lives of Jonathan Groff's Patrick, Frankie J. Alvarez's Agustin and Murray Bartlett's Dom. Problem is, the three aren't that compelling, at least not in the first episode which, to be fair, is all I've seen of Looking thus far. It's a shame that HBO didn't use their back-to-back premiere strategy for half-hours because "Looking for Now" doesn't offer a lot of time for viewers to grow attached to any of the three leads.
That's a big problem for a character based series seemingly unconcerned with plot or adding drama for drama's sake. It's like being embedded in a not very exciting but (I guess) exotic world and getting less than ten minutes to get to know the people with whom you could potentially share your Sunday nights. (Or precious DVR space.) Those people better be compelling, right? Well, I didn't find anything especially interesting about Patrick, the awkward, lonely and unassuming lead, or Agustin, an artist in an open(ish) relationship but I'll admit there was something engaging about Dom, the slightly older member of the trio who is sick of sleeping with everyone not to mention also rocks a rock solid mustache.
Don't get me wrong, all the actors are fine in their respective roles, however, none of them, save Bartlett, are able to create a quick connection with the audience. Perhaps after a few more installments, I'll grow more attached to Groff and Alvarez's characters but what I saw from them in the series premiere was not enough to grab me. And, as I previously stated, there's not much plot to grab you either, with the opening sequence being the only event that seems fresh and yet also completely inconsistent with the sheepish Patrick we'll spend (half of) the rest of "Looking For Now" getting to know.
His big moment at episode's end (no spoilers) feels less substantial for his character than where we first met him. Which would be fine, if it wasn't played as a big step. It also doesn't help that Looking looks like every other low-budget film or series of the past year, sporting a soft, handheld aesthetic backed by almost obscure pop music. To bring back the Girls comparison for a moment, Dunham's series seems to predict (or even set) trends, with her music cues seeing a bump in popularity after being featured, while I don't think the same will be said for Lannan or Looking since the choices on all fronts seem safe.
Lannan may be actively trying to create this low-key, subtle portrait of gay life in the Castro but then, like I said, you have to want to hang out with the characters. After one episode, I don't. Looking was adapted from Lannan's short film called Lorimer, the latter exploring, according to the tagline, "cynical Brooklyn boys vs. earnest affection" with the actor who played Richie (Raúl Castillo) in the lead role.
While the creator has done nothing else to convince me to come looking for more (his other main credit is co-directing Interior. Leather Bar. with James Franco), his collaborators have produced some interesting work with Andrew Haigh (Weekend), Jamie Babbit (But I'm a Cheerleader) and Joe Swanberg (Drinking Buddies) all on board. Haigh is set to direct several of the first season installments and also penned two so perhaps I'll stick around to see if "Looking for Uncut," "Looking for Your Browser History" and "Looking in the Mirror" (to name a few) improve upon the premiere. But without that vote of confidence, I'd say I've seen enough.
The series premiere of Looking is Sunday, January 19 at 10:30 p.m. ET on HBO. Created by Michael Lannan, the series stars Jonathan Groff, Frankie J. Alvarez, Murray Bartlett, Raúl Castillo, O.T. Fagbenle and Scott Bakula.
Your Daily Blend of Entertainment News
Thank you for signing up to CinemaBlend. You will receive a verification email shortly.
There was a problem. Please refresh the page and try again.