MTV Orders The Inbetweeners To Pilot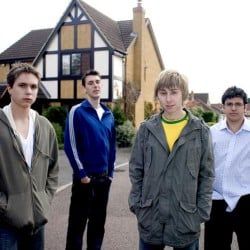 MTV is already moving forward on their version of the UK teen hit Skins. Now they're looking to adapt another British series many consider a comedic counterpart, with an American version of The Inbetweeners, as reported by The Hollywood Reporter. Unlike Skins, which deals with groups of teens across the social spectrum, The Inbetweeners is about those unpopular kids who don't seem to fit into any social groups.
Across two seasons in Great Britain, the characters chased love and popularity, fought with one another and with their families, and got themselves into some of the most awkwardly hilarious situations possible. Far more broad in humor than Skins, The Inbetweeners finds its success mostly on the strength of its writing and its lead actor, Simon Bird. It goes on to win several British Comedy Awards in its first season, and manages to grow its audience through its two seasons.
Casting is going to be crucial for an American version to find success. They need to find characters who are pathetic, insecure, maddening to watch and yet likable anyway. Even the lead character of Will McKenzie, played by Bird, is arrogant and socially inept to a scale that's almost unbelievable. And yet, he's fun to watch as he makes a trainwreck out of any potential positive experience he might have.
The Inbetweeners pilot order joins Skins and a television version of the 1980s film Teen Wolf on MTV's development slate.
Your Daily Blend of Entertainment News
Your Daily Blend of Entertainment News
Thank you for signing up to CinemaBlend. You will receive a verification email shortly.
There was a problem. Please refresh the page and try again.