Marco Polo First Look Photos Tease Adventure And Romance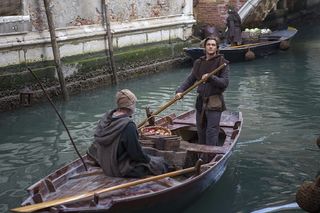 Adventure awaits at Netflix! The streaming video service has Marco Polo on deck to premiere later this year. Today, Netflix has released a handful of photos from the series, which show off star Lorenzeo Richelmy in the role of Marco, as well as the beautiful Zhu Zhu, who plays Marco's love interest Kokachin. Here they are together in what appears to be a very romantic, somewhat shirtless moment...
Created by John Fusco, Marco Polo is set in 13th century China and follows famed explorer Marco Polo's adventures in Kublai Khan's court. The cast for the series includes Remy Hii (playing Prince JIngim), Olivia Cheng (playing Mei Lin), Claudia Kim (playing Khutulun), Uli Latukefu (playing Byamba), Chin Han (playing Jia Sidao) and Tom Wu as Hundred Eyes.
The photo below shows Mahesh Jadu, Amr Waked, Remy Hii, Benedict Wong and Joan Chen:
Can we just pause for a moment admire that guy's chair? Forget the iron throne. It's all about gold and furs!
Finally, we have this scene, which looks like it could be battle related...
And another shot of Marco, this time on horseback. Possibly a closeup related to the above scene?
Netflix continues to dabble in different genres, and it's worked out pretty well for them in terms of acclaim. House of Cards fills the drama spot, Orange is the New Black is more of a a dramedy. Arrested Development was full-on comedy, and Hemlock Grove touched on horror/supernatural. There's also Lilyhammer and the recently debuted (and renewed) animated series Bojack Horseman. It looks like Marco Polo will fill both the adventure slot and period piece. And hopefully the drama measures up to the high standard some of Netflix's other original series.
While House of Cards and Orange is the New Black didn't exactly win big at the Emmy Awards this year, the fact that both series received so many nominations is a mark of how quickly Netflix has been recognized as a network streaming service that's delivering top notch original programming.
Marco Polo will premiere at 12:01am PT on December 12, 2014 in all territories where Netflix is available.
Photo Credit: Phil Bray for Netflix.