Mariah Carey Reportedly Nearing American Idol Deal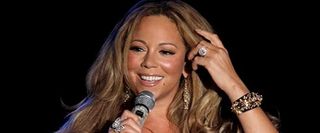 It looks like Mariah Carey is coming close to signing on as the next judge on American Idol. She's been the strongest contender among the names thrown around for the position since Jennifer Lopez made the decision to leave the show. And it doesn't sound like she'll come cheap – so much for the rumored budget cuts on Idol.
Carey, who happens to be managed by veteran Idol judge Randy Jackson, is likely being brought into the fold through that connection and will bring a cut of her pay for Jackson too. And it will be a pretty sweet payday too. According to Deadline, Carey is looking to earn $17 million to sit on the judges panel. That doesn't sound like the belt-tightening on the budget that had been rumored for Idol. Of course, it could be they're going to cut elsewhere in hopes that paying the big bucks for Mariah Carey will bring the ratings back up.
Although it's not a done deal yet, it looks like it's being finalized and we are likely to see Carey sitting next to Jackson next year. That still leaves one more judge's seat open since Steven Tyler is leaving the show as well. A few names have been thrown in the ring, including Aretha Franklin. Certainly if Mariah Carey comes on board, they'll be on the lookout for someone who brings some star power, but possibly at a lower price tag. That might be a bit of a challenge if Carey actually does pull in $17 million, which is more than J. Lo earned, as they'll have to walk a fine line to keep everyone happy with their paychecks. It could be a very expensive season for Idol.
Your Daily Blend of Entertainment News
Thank you for signing up to CinemaBlend. You will receive a verification email shortly.
There was a problem. Please refresh the page and try again.