Aretha Franklin Reportedly Interested In American Idol Judge Spot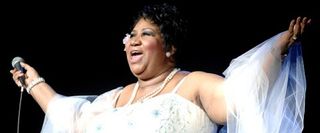 American Idol has had some stars sit on its judges panel, but this could be the first opportunity for the show to have a living legend on board. None other than the Queen of Soul herself, Aretha Franklin, is reportedly interested in taking over one of the empty spots left by departing judges Jennifer Lopez and Steven Tyler.
The departure of the two in the wake of decreasing ratings for the long-running singing competition seemed a blow at first, but as the rumors fly regarding who will fill their chairs on the judges panel there seems to be some hope that it could be a blessing. With Mariah Carey already in contention to fill the diva role on the panel, CNN reports that a diva of greater magnitude has her eye on the spot. Aretha Franklin, who says she's a fan of the show, has expressed an interest in taking on a judging role. At 70 years old, she is still performing and carries with her some serious music industry clout.
Bringing in someone like Aretha could be the change Idol needs to regain some ground. As many fans as people like Jennifer Lopez may have, none can bring the kind of respect (pun fully intended) that Aretha deserves, nor the incredible talent and history in music. Even aging rock star Steven Tyler, who has been around the musical block for sure, doesn't have the same kind of cred.
So could Aretha be the next woman to judge on Idol? Fox hasn't commented on it, but I hope they're considering her seriously. Apparently she could even bring along fellow singer Patti LaBelle, although I'm not sure the show needs two such personalities. Finding a third judge who would play of Franklin would be the better move in my opinion. I'm sure there will be a few more hats thrown in the ring yet.
Your Daily Blend of Entertainment News