Mark McGrath Gets The Ax From Extra!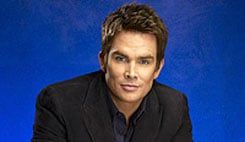 Extra, that extremely socially valuable celebrity news program, has decided to make some drastic hosting changes for the upcoming season. The familiar faces of Dayna Devon, and her co-host Mark McGrath will be replaced by one host - Slater from Saved By The Bell, I mean Mario Lopez.
Perez Hilton broke the story Monday morning, and it's since been verified by a story on Reuters . Not that I don't trust Perez Hilton, but Reuters might be a tad more reputable for information.
Mario Lopez has been a co-host in the past, and "A rep for the show says, "[Mario Lopez] has established himself as a highly engaging, likeable and sought-after host and personality."
Lest you worry about the pair that won't be sticking around, "Extra veteran Devon will stay on as a special correspondent and backup host. McGrath is leaving the show after a three-year stint to return to his music career. His band Sugar Ray is recording a new album, which will be documented by Extra.
Your Daily Blend of Entertainment News
Thank you for signing up to CinemaBlend. You will receive a verification email shortly.
There was a problem. Please refresh the page and try again.