Marlee Matlin Takes Her TV Project Online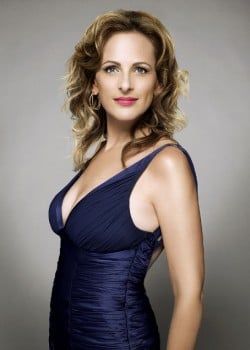 It's kind of odd that Marlee Matlin wasn't able to find a home for her reality series. I realize that the Firl family doesn't have any little people in it, or people struggling with their weight, but that doesn't mean they aren't an interesting story. So Matlin is taking her pilot for My Deaf Family to YouTube.
The family has both parents and four kids, and of the six of them, only two of them are hearing: 15-year old Jared and 3-year old Elijah. The parents, Bridgetta (mom) and Leslie (dad) along with 12-year old Gideon and 6-year old Sabrina are all deaf.
According to Matlin, the networks passed on the series because "they didn't quite know if they could pull it off or even how." And yet Matlin managed to do just that. In 10 short minutes she introduced the Firls as a family facing internal complexities, as well as the struggles of navigating a hearing world.
There's no word on if Matlin intends to try and continue following the Firls on YouTube, which would probably be quite costly, or if she's hoping this public sample of her proposed reality show will help encourage those same networks to give it a chance.
All I can do is think of all the reality crap that is on the air now and wonder why this would be something they can't figure out how to do. If VH1 can come up with every variation of skanks spreading diseases, surely someone can handle filming a family with mostly deaf members.
Check out Matlin's effort and see what you think?
Your Daily Blend of Entertainment News
Your Daily Blend of Entertainment News
Thank you for signing up to CinemaBlend. You will receive a verification email shortly.
There was a problem. Please refresh the page and try again.