Marvel's Daredevil Trailer Is Dark And Full Of Terrors, Watch It Now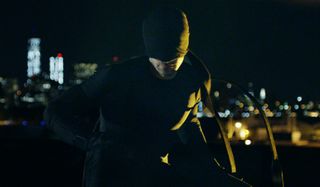 Marvel's Daredevil trailer is finally here, folks! We've all seen glimpses of Charlie Cox transform into Matt Murdock, aka the "Man Without Fear," for Marvel's new original series coming to Netflix this year. But this isn't your 16-second-long teaser. This one clocks in at 90 seconds and includes all your favorite Daredevil mainstays, like Stick, Karen, Foggy and, of course, the villainous Kingpin!
IGN got the exclusive debut of the Daredevil trailer, but in case you weren't up near midnight last night, Marvel released the above YouTube version. The first real footage of the post-Ben Affleck "Man Without Fear" take brings a more dark and brooding tone befitting of something like, say, The CW's Arrow. We've all seen how similar Brandon Routh's The Atom costume is to Paul Rudd's Ant-Man, so is Daredevil Marvel's answer to Arrow?
"I'm not seeking forgiveness for what I've done, father. I'm asking forgiveness for what I'm about to do." The Daredevil trailer is framed by Murdock confessing his sins to a priest, which is a throwback to the comic book character's early upbringing. As we're introduced to our first look at the likes of True Blood star Deborah Ann Wall as Murdock's love interest Karen Page and Elden Henson as his best bud Foggy Nelson, the scenes shift back to this intimate moment.
Despite all the early promotional material, we know that this version of Daredevil will eventually don his famous scarlet superhero costume. But for now, we're still in his early training stages, and that means all black. As Murdock gets used to his blindness and enhanced senses, he sets out into the night to battle villains. Seriously, all that's missing his Cox turning to his adversaries and saying in a scratchy voice, "You have failed this city!" But in all seriousness, the Daredevil trailer looks pretty badass.
But it wouldn't truly be a Daredevil work without Kingpin! In an act of great casting — dare we say perfect casting? — Vincent D'Onofrio shaved his head to portray Wilson Fisk, who began his criminal career as a Bronx thug. According to showrunner Stephen S. DeKnight, this series will also be about the rise of Kingpin and take us through his early life. The actor succeeds the late Michael Clark Duncan as the character, but as he told ScreenCrush during production, "I think that there will be no other Wilson Fisk but this one after we're all done with it."
Aside from all these iconic comic book characters making their way to Netflix, we're also excited to start looking for Easter eggs that could point us to the inevitable Defenders crossover miniseries event. Marvel is already beefing up the cast for the next series in line, AKA Jessica Jones and Luke Cage, led by Krysten Ritter and Mike Colter. The fact that we'll eventually see all these heroes of Hell's Kitchen team up on the screen, let alone on Netflix, is too awesome to miss.
You can catch Netflix's Daredevil when all 13 episodes begin streaming on April 10.
Your Daily Blend of Entertainment News