Masters Of Sex And Ray Donovan Set For Summer Returns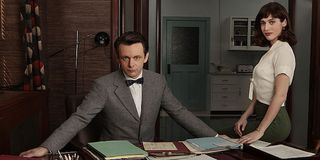 Two of Showtime's most successful freshmen series, Ray Donovan and Masters of Sex are finally returning to our small screens. And you won't have to wait until the pesky fall for their arrival. Both sophomore series will make summertime debuts with 12, one-hour episodes on Sunday, July 13th.
Kicking off the evening at 9PM will be Ray Donovan. The Liev Schreiber-starrer stands as Showtime's highest-rated freshman series ever, garnering Golden Globe nominations for its stars. Both Schreiber and his father (portrayed by Jon Voight) will serve as a lead-in to critical darling Masters of Sex at 10PM.
For those unaware, Schreiber stars as the titular Ray Donovan, Los Angeles' "best professional fixer." Donovan is the sort of fella celebrities, athletes, and even well-to-do business moguls call to make their, uh, complicated and messy situations go byesies. And surely, after the season one cliffhanger, the fallout surrounding Boston mobster and fugitive Sully's (James Wood) murder, will be compelling to watch. Season two is said to "explore the fallout of his murder for Ray, his father Mickey (Voight) and the FBI, headed by LA Bureau Chief Cochran (guest star Hank Azaria)." The cast also includes Paula Malcomson, Eddie Marsan, Dash Mihok, Steven Bauer, Katherine Moennig, Pooch Hall, Kerris Dorsey and Devon Bagby. Oscar-nominated actor Elliott Gould will return as a special guest star, in addition to Gould and Azaria, alongside an impressive line-up of additional guest stars, including Ann-Margret, Wendell Pierce, Sherilyn Fenn, Vinessa Shaw, Brian Geraghty, Heather McComb and Kip Pardue. Last year Ray Donovan saw an average of 5.7 million weekly viewers.
And as for one of our favorite new dramas of last year, the incomparable Masters of Sex, the series will maintain a 10PM timeslot on Sundays, will again focus on Dr. William Masters (Michael Sheen) and Virginia Johnson (Lizzy Caplan) as the real-life sexuality pioneers that ultimately lead to the sexual revolution of the 1960s — largely thanks to their work in the field of documenting human sexual response. The scientific and saucy series will continue to chronicle the curious lives, romance, and research that led to the duo's pop culture infamy and acclaim. The series, an adaptation of Thomas Maier's book of the same name, will see new and returning faces in its upcoming second season.
Averaging 4.8 million weekly viewers, Masters of Sex will see the return of several of its season one stars — including Caitlin Fitzgerald, Teddy Sears and Annaleigh Ashford — in addition to the exciting cast additions we wrote about yesterday, Breaking Bad's Betsy Brandt and Keke Palmer, who will guest star for the season. The series was created and executive produced by the brilliant Michelle Ashford.
Your Daily Blend of Entertainment News