Mean Tweets #8: Gwyneth Paltrow, Chris Pratt And More Read Hate Speech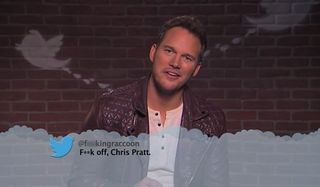 Jimmy Kimmel's not always the most viral late night host, but he and his team of writers have come up with a few recurring video premises that make us laugh every single time. One of these is "Mean Tweets," and this week Jimmy Kimmel Live! released the eighth edition of the segment to amuse fans. Keep in mind the video is NSFW due to some strong language. Click at your own risk.
Kimmel's team is great at picking out controversial celebrities to read mean tweets, as well as a few who haven't really done anything to deserve ire from random jerks on the Internet. Early on, Gwyneth Paltrow (who has been in the news following her "conscious uncoupling" from Coldplay's Chris Martin) reads a particularly nasty tweet which compares her to Big Bird. Girls writer and producer Lena Dunham is also not immune to internet criticism, although the highlighted Twitter user took some pretty personal shots at the writer's appearance.
The best mean tweets are the ones that get an amusing response from the actors, musicians and other celebrities. In this case, Chloe Moretz gets compared to an asshole, to which she responds with a pretty smooth and hilarious note about what the Twitter user's butt must look like. Chris Pratt's response is even more classic, as he responds with an "aww" when treated like dogshit by some random individual on the internet.
Anyone who uses the internet on a regular basis is well aware that many users are willing to open up and make comments (along with insults and sometimes threats) online that they would probably never make in person. And celebrities get a lot of the brunt of that Internet hate. Luckily, it seems that most of the celebrities willing to appear in Kimmel's "Mean Tweets" videos are pretty good-humored about the ridiculous things that are floating around the social media service.
Each of the installments of "Mean Tweets" have been pretty classic, but here at Cinema Blend, we understand that watching people be mean and horrible to one another isn't always what you want to spend time doing while you are winding down for the weekend. For those of you who like to spend time with more pleasant types of comedy, here's "Cute Tweets" from the Sesame Street gang. Or, you know, you can always troll the Internet for sweet cat videos.
Your Daily Blend of Entertainment News
Reality TV fan with a pinch of Disney fairy dust thrown in. Theme park junkie. If you've created a rom-com I've probably watched it.