Megyn Kelly Gets Her Own Primetime Program On Fox News Channel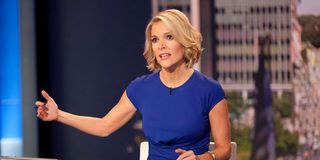 Fox News Channel is making some big lineup changes, moving around Sean Hannity and Greta Van Susteren's respective shows, all to make room for the network's female darling, Megyn Kelly, whose sharp wit, tact, and ease on camera have made her a major asset to the network over the last several years. Now, she'll star in her own primetime drama, The Kelly File.
The new lineup will look a little different than in year's past. On the Record with Greta Van Susteren is taking the 7 p.m. ET hour, which is not quite primetime but should still offer the chance to build a solid base. Bill O' Reilly will follow at 8 p.m. ET. His program will be the only show that will stick in its current timeslot, which should literally be no surprise to anyone who watches Fox News. The O'Reilly Factor is the most-watched cable news program and the network is smart to keep a good thing going.
This brings us to Kelly's new program, The Kelly File. That's the same name as a segment Kelly has run on The O'Reilly Factor in the past, making the hop, skip and a jump to the timeslot following O'Reilly's show a little fitting. The new program is expected to cover breaking news, interviews, and some taped reports. Kelly showed the same graceful drive and gratitude she's exuded on Fox News Channel in the past when the network made the announcement this morning.
While it's good news for Kelly, it's a mixed bag for Sean Hannity, who will be moving to the 10 p.m. ET slot. Hannity's actually done well in the 9 p.m. timeslot in the past, but apparently the network wants to give a leading lady a shot. Despite the bump back, Hannity is either legitimately happy with or trying to make the best of the change, noting that he can either air live or tape in that slot and feels freer to spend some evenings with his family. Hannity does have kids still living at home and now that he's made a name for himself, he can afford to spend time with them.
Overall, whether or not you are a big fan of FNC's brand of news programs, big changes are afoot, and it should be a refreshing change of pace to viewers who have gotten much of the same old same old from the cable news network over the past decade or so. For everyone's sake, hopefully the alterations wind up being a hit with fans, and Kelly will continue to grow as a likeable talking head. You can catch Kelly and the lineup changes in action when they hit the schedule on October 7.
Photo Credit@ Fox News
Your Daily Blend of Entertainment News
Reality TV fan with a pinch of Disney fairy dust thrown in. Theme park junkie. If you've created a rom-com I've probably watched it.