Mercedes Ruehl Moves On From Luck To El Jefe Pilot At Fox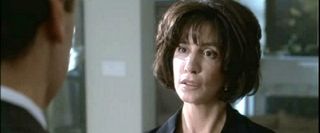 Mercedes Ruehl is not down on her luck despite the decision to cancel the show by the same name that she was set to star in at HBO. She's already made her move and has joined the cast of a Fox pilot, El Jefe. She'll star opposite Veronica Mars alum Ryan Hansen in the comedy project.
Ruehl made the move in the wake of the shut down of production on Luck due to the third death of a horse on the set. She had just signed on for a role in the second season of the HBO horse-race drama, which turned out to be rather failing to live up to its name. According to Deadline Ruehl's people immediately let it be known she was in the market and Ruehl decided on a role in the El Jefe pilot at Fox.
The pilot surrounds a guy in his 30s (Hansen's character) who finds himself given the boot from his home in Brentwood and goes to live with his childhood nanny, who adores him. Delmi, the nanny, is the role being taken on by Mercedes Ruehl, and by the description is something of a Latina stereotype. Hopefully it's just the description and the character is written better than she's described – if Ruehl took on the role I have hope. Also on board for the pilot is Jessica Camacho who has guested on Dexter and Gossip Girl.
Production starts on Monday for El Jefe, so Ruehl won't find herself with much in the way of down time. Hopefully this will be a luckier choice for the Oscar-winner's return to acting after time off with her family.
Your Daily Blend of Entertainment News