Metal Hurlant Chronicles Composer Jesper Kyd Talks Heavy Metal And Sci-Fi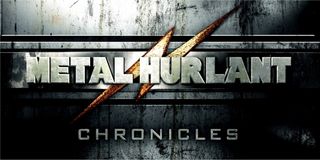 Usually this article would be plastered all over Gaming Blend and the intro would talk about something related to a big game either coming out or just releasing. This time, however, the interview – with one of my own personal favorite composers – centers around the French and Belgian TV series set to air on Syfy called Metal Hurlant Chronicles, a super-action sci-fi collage of short stories based loosely on the popular Heavy Metal magazine of old.
Gaming – oops, TV Blend had an opportunity to pick the brain of Jesper Kyd – a composer well known for video games such as Assassin's Creed and Hitman, as well as upcoming films such as Radical and Auteur – and to find out what went into crafting the music around the television series that stars popular action and sci-fi talent, ranging from Rutger Hauer and Michael Jai White to martial arts superstar Scott Adkins and Syfy native Joe Flanigan. Check it out below.
TV Blend: What attracted you to this particular project, and did you have an idea of what direction you were going to go in with the music once you saw that you were signing on to score Metal Hurlant Chronicles?
Jesper Kyd: I was well aware of the Heavy Metal comics from the 1970s and 1980s having read many of those growing up. I started working on the pilot episode called RED which I thought was amazing. It's visually very striking as the entire episode was filmed with red lighting– there's not much dialog but it's a universal story that everyone can relate to.
Once the series went into full production, I knew what episodes were going to get made. I scored one episode at a time and worked out all the different music themes and ideas that were needed based on the script. However, there are so many different ways to re-create these stories and it wasn't until I received a near final edit that I really got going with each episode.
One thing I knew was that I was going to try and score each episode in a different music style.
TV Blend: Before getting into scoring for the Metal Hurlant Chronicles show, did you have a lot of experience or get into the lore of the Heavy Metal fiction, or were you a fan of the magazine series?
Jesper Kyd: I'm a huge fan of the Heavy Metal publisher in France called Humanoids. I have most of their comic books and I'm so happy to see all these classic titles from the 1980s coming out in English. I read many of these comics in Danish growing up. I also have some of the French editions not released in English or Danish – Like I said, I am a really big fan of the comics
TV Blend: I know that you've been tasked with working on the score for the show, but did you get a chance to meet some of the actors working on the project, maybe as a way to help shape or mold the music? Also, was there anyone in particular who you hadn't met before but managed to meet thanks to working on the series?
Jesper Kyd: Yes, I've met some of the actors such as James Marsters, Michael Jai White and Darren Shahlavi. We all did a panel together at Comic Con. James Marsters is awesome, such a nice guy. Meeting the actors didn't influence the music but it's always really interesting meeting them since you have been watching them over and over and created themes for their characters etc. I almost feel like I know the actors by the time I am done writing the music...then you meet them and of course they are not the same person as in the show.
TV Blend: The previous two Heavy Metal films focused on a lot of heavy metal music from different bands. The music you have lined up for the show -- will it have a strong focus or inspiration from heavy metal music, similar to the movies, or will it be something entirely different?
Jesper Kyd: There is no inspiration from the music created for the two Heavy Metal cartoons/movies. This is a live action adaptation of the Heavy Metal comics and so the television series feels very different from the 1980s and 1990s animation.
TV Blend: Were there any specific requirements from the producers or show creators as to what sort of music they wanted for the show or the tone that they wanted portrayed throughout the series?
Jesper Kyd: I was given a lot of room to experiment and come up with ideas. For the episode called "Second Chances" I was asked to create a 1980s style sci-fi synth score and that was a lot of fun to write. For the "Endomorphe" episode I wrote a sci-fi thriller score which was the most time-consuming episode to work on because of all the action music. The fantasy western episode called "Whiskey in a Jar" was also a lot of fun; I had never written for a western before.
TV Blend: Given that the show contains multiple characters and stories taking place within self-contained arcs, did that give you an opportunity to explore having multiple themes for each of the different character sets, or is there a symmetry present in the music that carries across all of the stories for each set of characters?
Jesper Kyd: The first season has some symmetry and there are certain key moments that use the same themes. For Season 2 there is a recurring character which has his own theme arranged in different music styles.
TV Blend: Switching gears slightly. You've worked on Undead Labs' State of Decay. While the game is already out and available, the team has slowly been releasing new expansion packs for the game since its release last year. Have you been part of the process of adding music to the new expansion packs or has all of that work been completed for the game?
Jesper Kyd: I continue to work with Undead Labs, however I can't comment on anything we're working on yet.
TV Blend: I ask this question all the time and I most of the time I know the answer, but I'm going to ask it anyway: beyond working on Metal Hurlant Chronicles and State of Decay, do you have anything else lined up for the near future that we can look forward to?
Jesper Kyd: There are lots of things going on which I can't talk about just yet, including a really cool sci-fi console game which looks to be announced soon.
Huge thanks to Jesper Kyd and Top Dollar for making the interview possible. You can look for Metal Hurlant Chronicles to air on Syfy, starring a wide variety of huge fan-favorite stars such as James Marsters, Rutger Hauer, Michael Jai White, Scott Adkins and Joe Flanigan, starting Monday, April 14th on Syfy. You can check out more of Jesper's music at his official website.
Staff Writer at CinemaBlend.
Your Daily Blend of Entertainment News
Thank you for signing up to CinemaBlend. You will receive a verification email shortly.
There was a problem. Please refresh the page and try again.