Assassin's Creed's Jesper Kyd Scoring Music To Heroes & Generals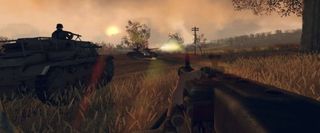 If you played the Hitman games or Ubisoft's Assassin's Creed series then there's one thing that you may have undoubtedly noticed about both games: they have exceptional music scores thanks to Jesper Kyd. Assassin's Creed soundtrack is even better than most scores featured in a Hollywood blockbuster.
Well, Reto-Moto has announced that their free-to-play, strategy-meets-FPS MMO will have none other than the incomparable, award winning comspoer, Jesper Kyd, scoring the soundtrack to the AAA browser-based game.
Jesper Kyd commented on the project and working with Reto-Moto, saying…
The game is unique, insofar that every battle determines the outcome of the war and players will have to fight hard and work together using FPS skills and strategy-based tactics to overcome the opposing side. What's more is that the whole thing runs within the confines of a browser, yet has high-end graphics and gameplay thanks to the proprietary Retox engine.
It's cool knowing that one of the best composers in the entertainment industry will be scoring music for one of the more unique games coming out. It will be interesting to hear and see how it all turns out. You can learn more about the game or sign-up to partake in the beta by visiting the Official Website.
Staff Writer at CinemaBlend.
Your Daily Blend of Entertainment News
Thank you for signing up to CinemaBlend. You will receive a verification email shortly.
There was a problem. Please refresh the page and try again.