Modern Family To Deal With Haley's Lost Virginity In Upcoming Episode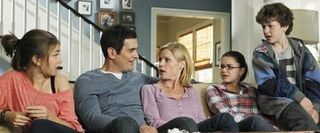 Part of the reason ABC's Modern Family is so damn good is its ability to find common ground with its audience and then mine out every last bit of funny. Your family may not look exactly like the Pritchetts and the Dunphys, but you've almost certainly gone through some of the same family travails as them. Now the series is looking to tackle a controversial subject, but one which has to be addressed in every family eventually: raging teenage hormones, and the consequences thereof. TV Guide reveals that an upcoming episode of Modern Family will have Phil (Ty Burrell) discovering that his oldest daughter, Haley (Sarah Hyland), is no longer a virgin.
Modern Family exec producer Steven Levitan spilled the beans to TVG's William Keck, and was quick to clarify that, while the show's writers use their own families' experiences for plotlines, this one was an exception. Levitan says that the episode will hinge around Phil's shock when he learns that Haley has punched her V-card, and then further dismay when he finds out that his wife, Clare (Julie Bowen), has known for a while now. Burrell told TVG that "He's, of course, horrified. But it ends up being very heartfelt and meaningful."
As for Clare, she takes this adolescent rite of passage in stride, although the actress who played her was a bit more ruffled by the storyline. Bowen said, "I was shocked. I was sure it would turn out to be a big misunderstanding, but no. Claire's not devastated by this, but I am."
Teen sexuality is a subject pretty much every family show gets around to addressing at some point, so it's no surprise that Modern Family is finally going there. Thankfully, the show's track record suggests we'll get something a lot funnier and more truthful than your typical "very special episode."
Modern Family airs Wednesday nights on ABC at 9/8c.
Your Daily Blend of Entertainment News
Thank you for signing up to CinemaBlend. You will receive a verification email shortly.
There was a problem. Please refresh the page and try again.