Monica Raymund Of The Good Wife Cast In NBC Pilot Chicago Fire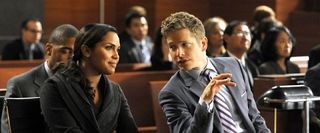 Monica Raymund won't be spending any time on the unemployment line it seems. Just days after her recurring character left The Good Wife for good, she has signed on for a co-starring role in a new drama pilot for NBC. She'll be one of the leads in Chicago Fire, starring along side The Vampire Diaries alum Taylor Kinney.
Kinney's casting was announced just yesterday, so Raymund follows hot on his heels into the new project, as Deadline reports. The new project, which as you might have guessed from its name is about firefighters in Chicago, comes from Wolf Films, headed by Law & Order creator Dick Wolf, and Universal TV.
Chicago Fire seems to be something of an answer to the recently departed Rescue Me, filling the hole left by the popular series and telling the stories of firefighters in a major US city. Monica Raymund will play Gabriella, a paramedic who is devoted to her work and throws herself into it in fearless daredevil fashion. Raymund is coming off a long arc as a recurring character on The Good Wife which only just ended on Sunday when her character walked out on her job after a demotion. Clearly there were no concerns about where she would be headed next.
Raymund has also been seen on Lie to Me and even guested on Law & Order: Special Victims Unit, so she's not a total stranger to Dick Wolf. This will be a big move for her into a regular, co-starring role if the pilot is picked up to series.
Your Daily Blend of Entertainment News
Your Daily Blend of Entertainment News
Thank you for signing up to CinemaBlend. You will receive a verification email shortly.
There was a problem. Please refresh the page and try again.