MythBusters Resume Shooting At Site Of Cannonball Accident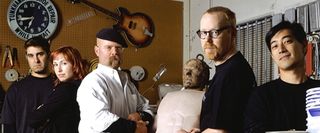 The Discovery Channel's MythBusters are no strangers to danger, frequently blowing things up, shooting things, or dropping things from a great height. Normally, however, they're extremely careful to ensure that nobody gets hurt during their attempts to put various urban myths and Hollywood clichés to the test. That solid track record was marred last December when, during an experiment with a cannon, a cannonball went off target and slammed through a suburban house. Thankfully no one was injured, but both the home and a vehicle were damaged, and show hosts Jamie Hyneman and Adam Savage visited the family that owned the house to personally apologize, also vowing not to air any of the footage involving the cannon. Now, six months later, the MythBusters are finally returning to film at the site of the incident.
According to KTVU, the MythBusters will be returning to the Alameda County Sheriff's Training Center beginning later this summer to film "occasional segments." Prior to the accident, the range had been a staple of the show for years, often performing dangerous experiments while under the supervision of the sheriff's office. After the cannonball accident, the range was temporarily shut down. Part of the agreement that allows the 'Busters to resume using the range stipulates that they can't conduct any further cannonball tests and that the range will only be used for "filming of activities that the sheriff's office is accustomed to handling."
KTVU also spoke to Satwander Gill, the local resident whose minivan became the final resting place for the wayward cannonball, and she expressed relief that there would be no more cannonball experiments on the range. Can you blame her?
Your Daily Blend of Entertainment News