NBC's Chuck Lines Up Another White Collar Guest Star Only This Time It's Tim DeKay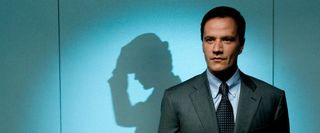 One of the most special moments from this year's Comic-Con happened when Zach Levi took the stage to thank all the fans for their support. Sure, the man is a good actor but the teary-eyed thank yous and farewells, this being the show's last season and, therefore, the cast's last trip to SDCC, were utterly believable and totally heartfelt. As an even bigger thank you to Chuck fans, they are lining up some superb guest spots for the fifth and final season of the NBC spy comedy. This time they're bringing in the other star of FX' White Collar to help clarify our leading lady's past.
That's right, we already had recurring guest appearances from one White Collar star with Matt Bomer appearing as as Chuck's former roommate and Sarah's former lover/partner Bryce in seven episodes over the first few seasons. Now EW (opens in new tab) reports that Bomer's partner in crime from their FX series, Tim Dekay, is also making the trip over to NBC's Chuck for a guest role. Most of the details are, shockingly, kept under wraps but it seems that DeKay will play Sarah's former CIA handler Kieran Ryker, a determined and stoic agent who makes Yvonne Strahovski's Sarah "confront her past and the choices she's made.
Tim DeKay (who I always remember as Kevin the 'Bizarro Jerry' on Seinfeld) joins a long list of actors signing up for guest spots on the final season of the super fun and entertaining spy series including; Carrie Anne-Moss, Dani Pudi, Stan Lee, Rebecca Romijn and, most exciting, Mark Hamill has an early season villain. If that's not enough to get you to tune in and watch the last season of Chuck, then I don't know what would. It's said that the show is on it's last legs but at least they seem ready to go out with a, guest filled, bang.
Chuck's fifth season premiere date was pushed back a week and is now set to air on Friday, October 28 on NBC at 8 p.m.
Your Daily Blend of Entertainment News
Thank you for signing up to CinemaBlend. You will receive a verification email shortly.
There was a problem. Please refresh the page and try again.