NCIS Enlists Jamie Lee Curtis For A Two-Episode Guest Spot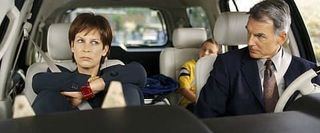 It's becoming more and more common for movie stars to not only make the move to lead roles in television (once considered a big step backwards) but to show up in small guest roles. The very popular, original version of NCIS, now the Number 1 scripted show on television, has just brought on a pretty special guest star for a two episode stint. The star? None other than Tony Curtis' daughter, Jamie Lee.
That's right, NCIS (or Naval Criminal Investigative Service for the uninformed... me) will reunite Freaky Friday co-stars, Curtis and the show's lead Marc Harmon, for a two episode run to air during November Sweeps. TVLine first reported the scoop and dropped some details on her character adding that, "Curtis will play Charlotte Ryan, a strong, opinionated career woman from the Office of the Inspector General in the Department of Defense." I don't know too much about the show, but I bet there's some 'play by the book' arguments going on... those Inspector Generals are nothing if not anal!
The article continues to describe Curtis' role, adding that she will not only butt heads with our main man Marc Harmon but there might be some flirting going on as well. "'Don't be surprised if there are sparks between Gibbs and Ryan,' says NCIS executive producer Gary Glasberg. 'We're expecting some real chemistry.'" Why does everyone always say chemistry? You think the science that serves as the best euphemism for sexual conduct/advances would be biology. Anyways, Lee guests and chemistry ensues! Glasberg adds that,
To be fair, that's a really solid and smart get for the show. Doesn't mean that I'll be watching since I have less than zero interest in standard police procedurals but for those who do, enjoy a little Laurie Strode with your crime solving action.
NCIS returns for its ninth season on Tuesday, Sept. 20, at 8 p.m. on CBS.
Your Daily Blend of Entertainment News