The Office Recap: Niagara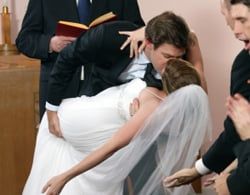 Ok, we knew the big Jim and Pam wedding was going to be a TV event to be remembered but I really didn't expect to tear up. I mean after all, so much had been spoiled by the promos. But there I was, watching two versions of a wedding play out in the final moments of the episode and the waterworks flipped on like clockwork.
Tonight we got an hour of Office goodness and what do the staff members of Dunder-Mifflin have to show for it? A torn scrotum, a hair piece, lost shoes, a ripped veil, some Maid of the Mist ticket stubs, a few random hookups and of course, one happily married couple.
The episode opened with Pam politely requesting that her coworkers kindly refrain from exposing her to the stench of their food and perfume. The smells have been causing her morning sickness to go through the roof and she's been spending a lot of time running for the bathroom. Dwight, refused to heed the request and went about pealing his hard-boiled egg right in front of Pam. She responded by offering him some of the courtesy he offered her and puked in her waste-basket, rather than getting up to make the long trip to the bathroom. This resulted in a domino-like brigade of sympathy puking on the part of most of the staff. Dwight sat shocked, holding his egg and Creed happily continued eating his Ramen noodles while everyone else up-chucked willy-nilly. I haven't laughed that hard during a puke-scene since The Sandlot (or if we're sticking to TV shows here, the cupcake-vomit bit during The Comeback).
After meeting in the conference room to go over the "rules" of the Halpert wedding in Niagara falls - the main one being, don't tell Pam's grandmother that she's pregnant because Grandma "Mema" is old-fashioned,the staff set off for the Falls. Michael even dressed up his car, painting "Going to a Wedding" on his rearview window and dangling full cans of soda from his back bumper. Yeah, you're supposed to empty the cans, Michael. Oh, and you're supposed to be the groom… and married, not on your way to a wedding but that's neither here nor there. While Michael and Dwight rocked out to the creepy spoken-word CD Dwight made for Michael to use to set the mood for the potential hook-ups he's going to have during the weekend, Kelly and Erin listened to their ipods in the backseat of Andy's car as he chauffeured them to the Falls.
Niagara Falls really is a kitschy little place and that's just what Jim and Pam loved about it when they chose it for the destination of their wedding. The room situation proved to be tricky for some people. While Andy booked the honeymoon suite for the night before the wedding, so he could "break in the bed," Michael neglected to book a room at all and ended up begging his staff for a place to stay. Toby was the only one willing to offer Michael the extra twin bed he had but Michael said no, stating that Toby would be sleeping by himself for the rest of his life. So Michael was roomless and had to camp out in the ice and vending machine room.
So check-in was predictably a mess and the rehearsal dinner proved to be no better. Before the toasts, Dwight wowed the kiddy-table by griping about Jim getting the promotion he should've gotten. Oscar got offended when Pam's sister Penny assumed that Kevin was "Gil," Oscar's once boyfriend. Meanwhile, Jim met Pam's father's new girlfriend, who is much too young for him and very goodlooking (which didn't go unnoticed by Pam's mother).
The toasts involved Jim's brother's Pete and Tom complimenting Pam's body while at the same time, insulting their wives with a request that they "kick it up a notch," and Michael doing some lame freestyle comedy by talking about smart-cars. And then Jim stood up and gave a heartfelt speech about his history with Pam and how he deceived her into thinking he couldn't drive stick so he could spend time with her… And then he jammed his foot into his mouth. When asking everyone to raise their glasses, he added on "but not Pam, for obvious reasons," prompting Grandma Mema to ask why Pam couldn't drink. Jim quickly attempted to fix the slip but only made it worse and finally admitted that Pam's pregnant. Mema was not pleased. When Michael stood up to speak again, I thought maybe this would be one of those moments where he managed to smooth the situation over but instead, he only poured gasoline on the fire by talking about Pam and Jim living together and not always being safe when they had "consensual sex." Because after all, "it's a different sensation." The "different sensation" speech ended the toast portion of the night.
The knowledge that her granddaughter's knocked up added to having been subjected to the movie Bruno the night before was just too much for the old woman and she decided she was leaving in the morning, refusing to attend the wedding. Michael did manage to smooth things over with Mema later, telling her that Jim and Pam were going to name the baby after her. So if the bay's a girl, she'll be Sylvia and if it's a boy, Sylvio. We'll have to wait and see whether or not Jim and Pam honor Michael's promise.
Andy's hotel room after party turned bad during a dance-off that had Andy tearing his scrotum when he attempted a first-time "banana split" move. Note to Andy: Next time you do that move, take your car keys out of your pocket. Pam ended up having to take him to the hospital and letting him crash in her room. While this was happening, Dwight and Michael were at a bar with Pam and Jim's friends and family, trying to hook up. Michael was actually hitting it off with a pretty woman as he talked to her about crying during Pixar movies when Dwight came running over and told him he found "twins." Excusing himself by saying, "You understand…" to the woman, he followed Dwight to the twins' table and saw that they were male twins. Yeah, apparently Dwight loves a good set of twins. Oh, and he's also been cutting meat off one of his horses… while it's still alive. Somehow, Dwight ended up hooking up with one of Pam's bridesmaids. The morning after, he managed to get rid of the girl while also being oddly charming. It wasn't until later at the church when he completely blew her off that she realized it was just a one-night-stand. Ok, she's hot but according to Dwight, she makes love like a dental hygienist from Carbondale. "Pass."
Kevin had some bad luck with his shoes. He left them outside his room so they'd be cleaned and polished only to find out the following morning that the hotel staff incinerated them, believing them to be a "safety issue." So poor Kevin had to show up at the chapel wearing tissue-boxes on his feet. Luckily, most people were probably too distracted by his hairpiece to notice his footwear. Meanwhile, Erin was kind enough to offer Andy her shawl, to sit on. Rumors had been circulating (courtesy of a nervous Jim) that Andy's scrotum had been torn off but apparently, the fellas are intact.
So things haven't been going that great for Jim and Pam's big wedding weekend and who of us is surprised? Still, Pam took the disappointments hard when her veil got snagged on the doorframe and tore. She called Jim and told him she needed to talk to him. When he arrived, she went on about how nothing about her wedding was how she thought it would be, being five-months pregnant, knowing too much about Andy's scrotum, the drama with her father and his girlfriend and every other mess that's been made. The veil was supposed to be the one thing she could control. Jim tried to cheer her up by cutting his tie off. Then the two of them decided to take off together.
Everyone waited around for over an hour at the chapel. The DM staff debated over whether or not they could help themselves to the gifts if Jim and Pam didn't get married. I doubt anyone would've claimed Michael's cartoon-like portrait of the happy couple. And Stanley's classic "toaster" gift, which didn't include a spot to toast hot-dogs probably wouldn't have been a big taker either, but Dwight's turtle-cooking kit (complete with turtles) takes the prize for worst-gift-ever. Finally, Jim and Pam arrived and the wedding began.
Now here's the thing about the wedding. When they started playing that Chris Brown song, "Forever," I knew immediately that they were going to do an Office version of the popular youtube wedding entrance dance. And I thought, Ok, that's a little corny but still typical of The Office. What I honestly didn't expect was to the emotional effect of cutting between the DM staff dancing down the aisle and Jim and Pam's pre-wedding wedding. When the two took off, they went to the Maid of the Mist and got married on the boat, just the two of them and bunch of random tourists donned in plastic ponchos.
I think it was seeing the characters dancing down the aisle that really got the tears flowing for me. Maybe I'm just an over-emotional TV watcher but I love this show. I'm a Jim/Pam fan as much as any other Office fan but the series is more than just a love-story between two coworkers. Including the other characters in the wedding entrance brought the episode together perfectly. Kelly and Ryan danced down the aisle together, and Stanley and his nurse-mistress/girlfriend/wife(?) Cynthia were teamed up for their dance. Erin danced down the aisle in front of Andy, who hobbled along behind her, using a walker. Kevin and Oscar ended their dance with Kevin falling into one of the decorative floral arrangements. And Dwight topped it off by doing a high-kick and catching his hook-up square in the face with his foot. All the while, Pam and Jim just smiled and laughed. The tension had evaporated for both of them as they'd already said their I-do's. That made the second just-for-show wedding all the more charming.
The episode ended with Kevin redefining the term "safety issue" by soaking his feet in the ice-machine. If that hotel had just given him his shoes back, they might have avoided whatever horrific sicknesses their guests will be enduring in the future due to contaminated ice. We also got to see Pam's mom taking Michael into her bedroom, which was just the cherry on top of this insane affair.
So did Jim and Pam's wedding live up to your expectations? For me, I was pleasantly surprised at how well they managed to hold true to the series with this much anticipated episode. Nothing ever goes as planned when the DM staff is together but we also know that Jim and Pam truly are a match made in heaven. While their wedding might have been perceived as a complete disaster to anyone who doesn't know these characters, I think Office fans will see the beauty and hilarity within the mess and remember this as being one of the episodes that managed to grab the heart of the series and give it a good squeeze.
Your Daily Blend of Entertainment News
Assistant Managing Editor
Kelly joined CinemaBlend as a freelance TV news writer in 2006 and went on to serve as the site's TV Editor before moving over to other roles on the site. At present, she's an Assistant Managing Editor who spends much of her time brainstorming and editing feature content on the site.